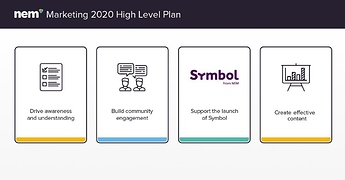 NEM Marketing High Level Plan
Translations:
Japanese: Here.
Russian: Here.
Spanish: Here.
Italian: Here
Chinese: To follow
The New websites will form the cornerstone of NEM Marketing for 2020. Please find attached a high level summary of the proposed activity in Marketing up to and beyond launch of Symbol.
The first draft of the Marketing Plan, including Content & Channel, will evolve as the business and sales strategy develops through the year.
It is important that marketing supports Business Development to help generate leads and enquiries.
The role for Marketing in NEM
To create engagement & conversation built on Data, Digital, Experiences and Content.
We need to engage our audiences in an intelligent conversation about what NEM and Symbol can do for them, and how they can work with and benefit from it.
To succeed, marketing needs to become content-led (the combination of our own unique content, content we identify, package and share and content from our Community) and use insight and data much more effectively in understanding and responding to our audiences.
Thirdly, we need to create the right mix of channels to inform, inspire and sell.
The focus for Marketing in 2020 is to;
Drive awareness & understanding of the NEM Ecosystem and position NEM at the forefront of the next evolution of blockchain.
Develop content to outline the role of and our ambition for the ecosystem.
Build Community engagement
We will listen to the Community to understand what they need, how they would like to engage and contribute and co-create a Community Strategy and plan.
Support the launch of Symbol and position the platform for Enterprise engagement and adoption
We will position Symbol at the forefront of the next evolution of blockchain and need to quickly establish the brand and platform as credible, professional and relevant to Enterprise customers, without losing its authenticity as a technology for developers, encouraging exploration and experimentation.
Create an effective content and channel marketing strategy
The content that we create (thought pieces, case studies, Academy content etc) that we curate (retweets, research, news we share etc) and that we hub (e.g. events, projects forum discussions etc).
The planned activities for 2020 are summarized here;
Legend:

A. Website phase 2 - Will include additional content from NGL and Community, language versions of the Symbol site (Japanese, Chinese, Russian, Spanish, Italian).

B. NEMTalk - A hosted virtual event/webinar from Nem that showcases the tech, brand and developers. This will include external speakers (blockchain and Enterprise) and will form part of our event Plan (To Be Finalised).

*Community Research - Using a combination of questionnaire, interview and focus groups, we want to understand what types of content the community wants, the channels it prefers to use for different types of content and what contribution they would like to make. Aggregate results will be published to the Community and whatever is agreed will be published in June/July.

**Community Campaigns - regular campaigns to showcase similarities and differences between NIS1 & Symbol, business development at the heart of Symbol, Symbol as a marketplace for developers and Enterprise & how Symbol is not centralized but retains NEM roots. TBD

*** Enterprise Campaigns - in the run up to Symbol launch we will run specific campaigns to target Enterprise clients to raise awareness and understanding of Symbol. These will align with specific target verticals that are agreed in the BD and Sales plan.

**** Symbol Demo Campaigns - we will showcase partners using Symbol private chain through explanation and demos (case study, video, webinar) as we approach Symbol public chain launch to keep interest and awareness of Symbol.
We would welcome your support, ideas and contributions to help make marketing at NEM more powerful.
Thanks NEM Marketing