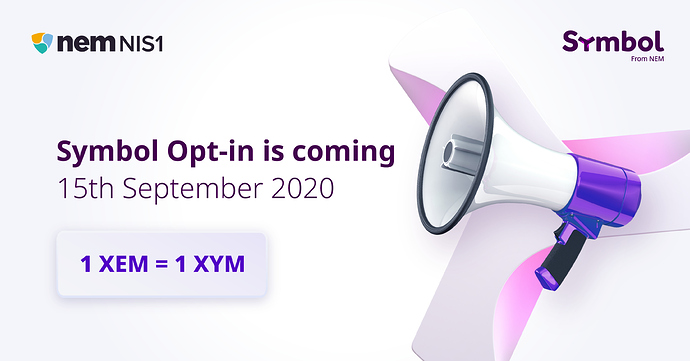 Opt-in Opening Date: 15th September 2020
We are excited to announce that Opt-in for Symbol will begin on the 15th September 2020.
Whilst this was due on the 7th September 2020, a further 8 days has been allowed for testing and improvement of the UI/UX. Testing is ongoing but we do not foresee any challenges at this point.
Opt-in is the method by which existing XEM holders are able to claim their XYM tokens at the point of Snapshot, prior to the new chain launch of Symbol scheduled for December. It is important to understand and accept the terms and conditions that are copied on the website, and are part of the process to Opt-in. Opt-in web pages and terms and conditions will also go live on 15th September.
Please note that it is your XEM balance at the point of Snapshot (and not when you Opt-in) that will be allocated an equivalent amount of XYM into your wallet.
You will be able to Opt-in to claim your XYM tokens for up to 6 years after launch date and further details on how to do this will be shared in the near future.
What can be opted-in and what can't?
From the 15th September 2020 you will be able to Opt-in the following through your NEM desktop wallet and NEM mobile wallet. (Android only)
Single accounts (which can include namespaces & harvesting keys)
Multi Signature accounts* (which can include namespaces & harvesting keys)
*Multi Signature account Opt-in can only be initiated in the NEM desktop wallet
What do I do next?
You will be able to Opt-in from the 15th September 2020 through your NEM Wallet, or from your NEM Mobile Wallet on your Android device. Unfortunately, iOS is not available at this time, owing to the more centralised approval process. Due to the time period it takes to publish an application on the Apple Store, it will be available at a later date. You can log into your NEM wallet, and follow the instructions to Opt-in.
Further information will be available on the NEM platform website on the date of Opt-in launch.
This is an exciting point in the launch process of Symbol as we move ever closer to launch of mainnet.
Translations:
Japanese: Forthcoming
Spanish: Forthcoming
Russian: Forthcoming
Chinese: Forthcoming