This could boost circulation since it's on wordpress XD
If someone wanted to accept XEM in an online store. What are the available options of tools to use nowadays?
Robins' WooCommerce plugin ( https://wordpress.org/plugins/woo-xem-gateway/ is not maintained and doesn't work with the recent WordPress&WooCommerce version.
Are there other options for XEM Online Shop Acceptance?
I know about coinpayments.net - but it's very slow to confirm and not really focussing on XEM.
I had retrieved the source code from the developer Robin. So, if there was someone capable to update (maintain) the WooCommerce plugin code that could be a solution, too.
Perhaps the NEM Foundation might do a bounty or even an in-house job out of this? @LauraBKK @jabo38 @jason.lee
Very good question!
The presence of this plugin for sites would be useful (it is probably worth creating a plugin not only for sites - WordPress, but also for others). Thus, any online store in the future can easily integrate a payment method and every user can pay for their favorite «products» in XEM, it will be very convenient for e-commerce.
Would there be any "bounties" from NEM at the moment? So we can professionally update and maintain this XEM acceptance plugin with our internally paid developers?
@jason.lee @LauraBKK @jabo38 @gevs
We already started looking into getting this WooCommerce plugin back to live.
Jeff (Jabo38) has just replied to me. No bounties at the moment. I guess the LuxTag team will be putting some resources to this and set up a XEM donation address for updating&maintainance of this plugin.
@wzulfikar (Our Core Dev - Wildan) Can you please lead this here. Thanks.
We are working on a bounty program, will keep everyone updated in time to come but thanks for highlighting this @r3n3

Repo's github issues is now enabled. If you'd like to donate for this plugin's maintenance, you can send XEM to NDESOVOBHA4L2U5WNRTZAYQADO76K7532RXGMERH
Install plugin: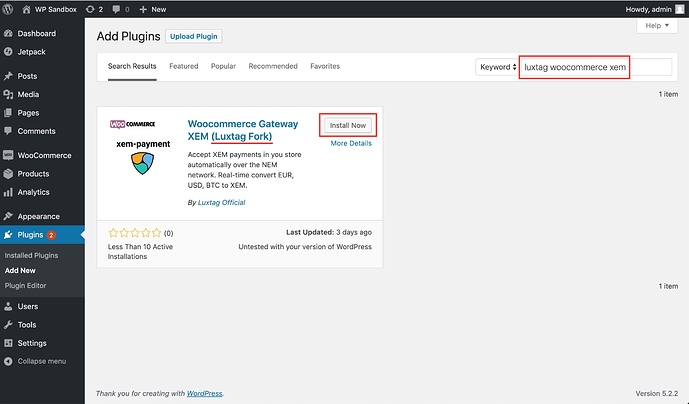 Demo: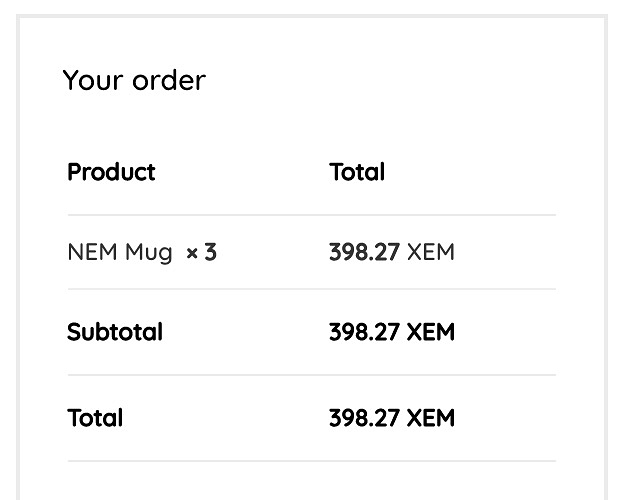 So the link to the Woocommerce XEM acceptance plugin is https://wordpress.org/plugins/woo-xem-gateway-luxtag-fork/
We strongly welcome contributions to NDESOVOBHA4L2U5WNRTZAYQADO76K7532RXGMERH - as a substitution for NEM Foundation bounties

Greetings from LuxTag.io - Wildan & Rene