NEM Foundation is looking for developers who are interested and passionate about the NEM Smart Asset blockchain!
Good news! To all developers, innovative individuals and blockchain enthusiasts, NEM Foundation is holding its first NEM Global Hackathon to provide an avenue to innovate and develop solutions to current real-world challenges.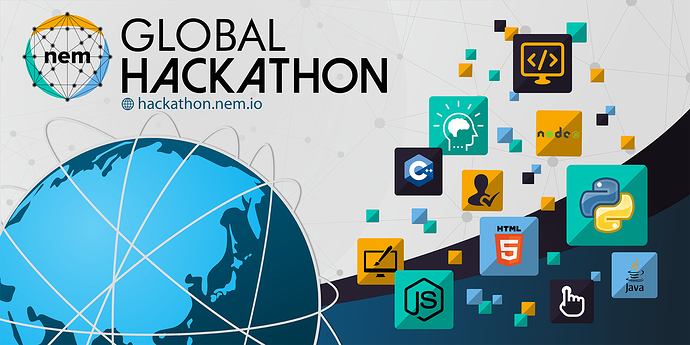 NEM Global Hackathon is a crypto-epic – 4-week – competition that aims to tackle real world problems unleashing all the potential of NEM Smart Asset blockchain. Deadline for submission of app ideas is January 1, 2018 at 17H00 (GMT+8). All qualifiers to the 4-week hackathon proper will be notified via email on or before January 7, 2018.
Get started and submit your app ideas for a chance to win exciting prizes! A total of $30,000 worth of XEM tokens will be given away!
To learn more, please visit https://hackathon.nem.io/.
---
HACKATHON TIMELINE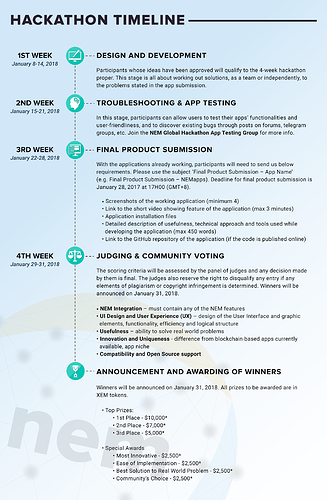 ---
CONTEST RULES
Supports open source blockchain ecosystem
Applications must contain any of the NEM features:

Namespace - Namespaces are domain names. Each namespace is unique.
Mosaic - NEM mosaics are smart assets that expose additional properties and other features. Each smart asset must belong to a namespace to be uniquely identified.
Messaging - Allows messaging of up to 1024 characters that can be sent with each transaction. Compressed files can be sent as a message of up to 1024 characters.
Address - NEM addresses are used to record transactions whether in value or in message form. They can also be used as container assets on the blockchain that can represent a single object that must be unique and updatable.
Multi-signature - Multi-sig accounts are editable on-chain contracts that can have up to 32 signatories on one multi-signature account.
Storage and Retrieval of Document Proofs - Can be used to uniquely store and retrieve documents using hashID.
---
SCORING CRITERIA
The entry that earns the overall highest score will be announced as the winner. Entries that attain the highest score within each individual category will also be announced as winners in the special awards category. The scoring criteria will be assessed by the panel of judges and any decision made by them is final. The judges also reserve the right to disqualify any entry if any elements of plagiarism or copyright infringement is determined.
Scoring will be based on the following criteria:
NEM Integration (20%)
User Interface (10%)
User Experience (10%)
Usefulness (20%)
Compatibility (20%)
Open Source (20%)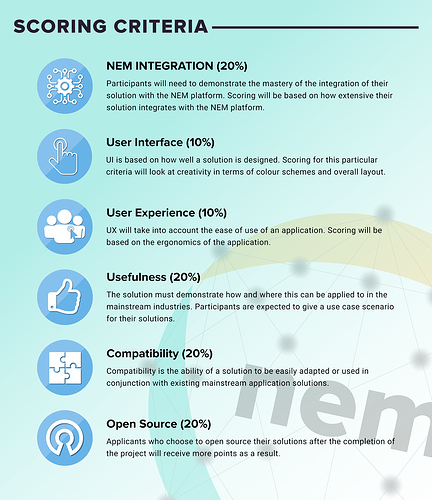 ---
ELIGIBILITY
Participants are invited to compete in individual or in teams of up to five members. Anyone can assemble a team to compete. Each team can submit up to 3 different applications. One participant can be a part of 2 different teams (i.e. one designer can create designs for two different teams). Teams must adhere to the timeline defined on the website, otherwise, their submissions will be deemed void. Usage of free and/or open source internet resources is allowed. Cheating and plagiarism of code from copyrighted or proprietary sources are not allowed. Contestants will be disqualified immediately.
---
SUBMISSION
In order to join NEM Global Hackathon, participants need to register on our official submission platform. Deadline for submission of app ideas is January 1, 2018 at 17H00 (GMT+8). All qualifiers to the 4-week hackathon proper will be notified via email on or before January 7, 2018.
With the applications already working, participants will need to send us below requirements. Please use the subject 'Final Product Submission – App Name' (e.g. Final Product Submission – NEMapps). Deadline for final product submission is January 28, 2017 at 17H00 (GMT+8).
Screenshots of the working application (minimum 4)
Link to the short video showing feature of the application (max 3 minutes)
Application installation files
Short description of usefulness and technical approach and tools used while developing the application (max 450 words)
Link to the GitHub repository of the application (if the code is published online)
---
WINNERS SELECTION
Winners are selected exclusively on the basis of overall score obtained from each judge during the evaluation phase. The scores from each of the categories are summed to obtain the overall score. Winners will be additionally notified by email before the public release of the contest results.
Winners will be announced on January 31, 2018.
Top Prizes
1st Place - $10,000*
2nd Place - $7,000*
3rd Place - $5,000*
Special Awards
Most Innovative - $2,500*
Ease of Implementation - $2,500*
Best Solution to Real World Problem - $2,500*
Community's Choice - $2,500*
* All prizes to be awarded are in XEM tokens.
---
REQUIREMENT
NEM Foundation may, within its sole discretion, require each prize winner to sign and return an affidavit of eligibility and liability and publicity release, in which each winner consents to the use of his or her name, age, hometown and photo by NEM Foundation for advertising and promotional purposes, without any additional compensation, wherever lawful, as a precondition to award of a prize.
If any prize winner fails to sign and return the requested affidavit of eligibility and liability/public release as requested by NEM Foundation, that winner may be disqualified, and his or her prize will thereafter be awarded to an alternate winner from the remaining valid entries using the criteria specified above. No transfer, assignment or substitution of a prize is permitted.
---
Join us in our first ever NEM Global Hackathon initiative. For developers with both skills and prototypes, get started and submit your app ideas for a chance to win exciting prizes on offer. If you have never joined a hackathon before but have some innovative ideas, click on the contact us link below and we'll help you match with those who have technical skills to bring your ideas to life!
Submit app ideas for a chance to win:
Submit App
Get in touch:
Contact Us
Telegram groups:
Techie Group
App Testing Group