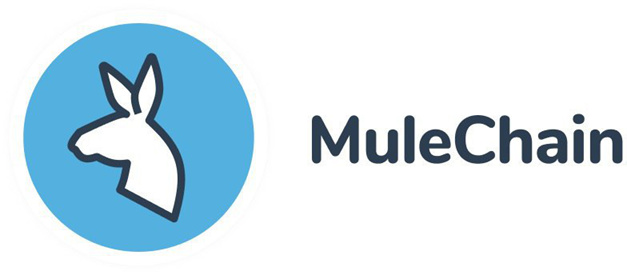 MuleChain is utilizing the NEM blockchain to build a hybridized decentralized/centralized peer-to-peer global logistics solution. MuleChain will be decentralized in that it utilizes the NEM blockchain and its smart-asset system to build a trusted form of cryptocurrency collateral (mosaic) which is used to eliminate the need for middlemen in deliveries and logistics. Mulechain Inc. will act as a service bureau to provide fundamental support such as:
Administering the decentralized peer-to-peer MuleChain network

Implementing and enforcing KYC & AML regulations

Assisting member users in dispute resolution
The gig-economy, where individuals can earn income by offering simple services is lead by the likes of Uber, AirBnB, and Fiverr. MuleChain intends to create a new gig-economy, run on robust blockchain technology, in the shipping, delivery, and warehouse service industries. MuleChain will be that catalyst that allows:
Millions of entrepreneurs to work for themselves on a decentralised P2P logistics network.

Postal parcel delivery services to operate in places where they do not yet exist

Human logistics networks to be deployed overnight to face natural or human disasters

Public transport services to become job providers for the unemployed
MuleChain will allow any person who has real estate space or access to transportation to earn additional income by participating as a Mule or Pack Station on the platform.
MuleChain Routes - Roles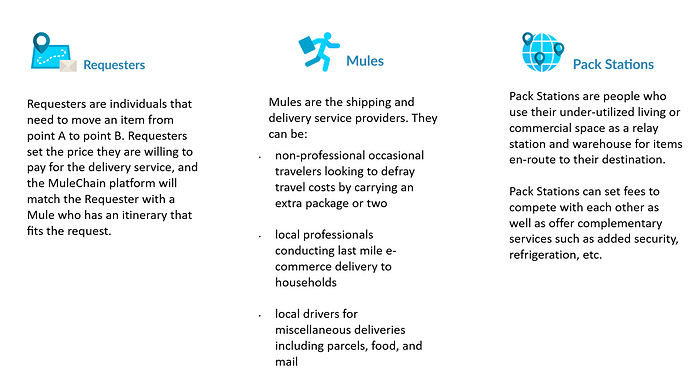 There are 3 participatory roles in the Mulechain: Requesters, Mules, and Pack Stations
Requesters
Simply put, Requesters are individuals that need to move an item from point A to point B. Requesters can have an item sent from their own location to somewhere else, have an item delivered from somewhere else to themselves, or have an item from a distant location delivered to someone else. They will be able to set the price they are willing to pay for the delivery service, and the MuleChain platform will match the Requester with a Mule who has an itinerary that fits the request.
Mules
Mules are the shipping and delivery service providers. Mules can be:
non-professional occasional travelers looking to defray travel costs by carrying an extra package or two
local professionals conducting last mile e-commerce delivery to households
local drivers for miscellaneous deliveries including parcels, food, and mail
The Mule role is similar to Uber, but for the logistics of goods and freight. However, unlike Uber, the MuleChain platform is decentralized, meaning Mules utilize the MuleChain platform to work for themselves with MuleChain Inc. providing backend support.
Pack Stations
MuleChain will also give independent individuals an opportunity to use their unused living space as a Pack Station. Pack Stations serve as relay stations and warehouses for items en route to their destination. Pack Stations can set fees to compete with each other as well as offer complimentary services such as added security, refrigeration, etc.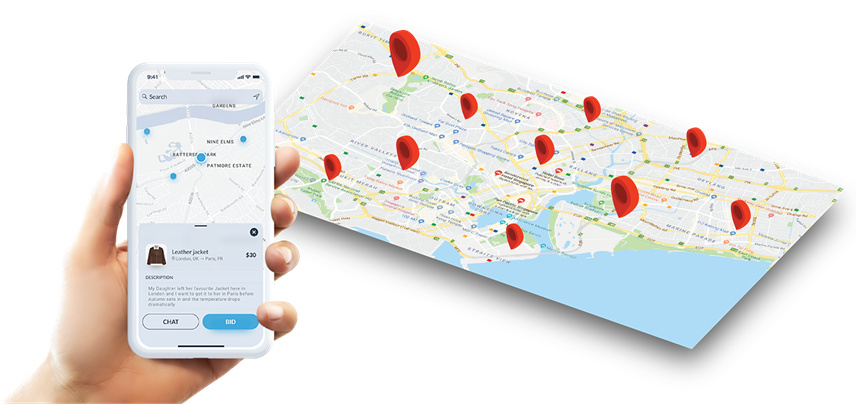 Transactions & Insurance
Transactions will be done using MCX tokens as payment and collateral.
Mules need to hold an equivalent or greater number of MCX tokens in escrow as collateral of equal value for the packages they carry.
Pack stations need to hold an appropriate number of MCX as collateral of equal value for all stored packages.