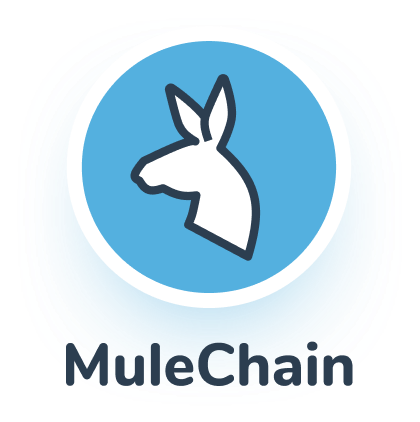 MuleChain NEM Community Fund Proposal
The global decentralized P2P delivery and warehouse services on a blockchain, for the people and by the people.
For a concise introduction to the MuleChain project watch the MuleChain Interview with CEO Ralph Liu at the Crypto Invest Summit or listen to Ralph Liu speak about the project on the FutureTechPodcast.
Social Media Links:
Twitter
Facebook
Telegram
Sign up for email updates
Translation of Proposal is also available:
Korean
Table of Contents
I. MuleChain Project
II. NEM Community Fund Proposal
Why Now?

Why NEM?

Which NEM Features Will We Use?

Mission

Problems

Solutions

MuleChain Routes

Benefits For NEM Community

Milestones
MuleChain Project
The MuleChain projects will utilize the NEM blockchain and all the features of its API to create an impactful platform which will provide P2P logistics on a global scale and make a difference for millions of people.
We're asking for the sum of 10,040,160.64 XEM, the equivalent of $2,000,000 USD (XEM at $0.1992 on 06/14/2018), to be used in the development of MuleChain. MuleChain utilizes the NEM blockchain and its smart asset system to build a trusted form of cryptocurrency collateral (mosaic) which is used to eliminate the need for middlemen in deliveries and logistics.
Such a platform has the potential to ultimately become a new kind of worldwide delivery and warehouse services and job opportunities for millions or even billions of people and we hope that the contribution and feedback from this community will help bring it live to the consumer marketplace.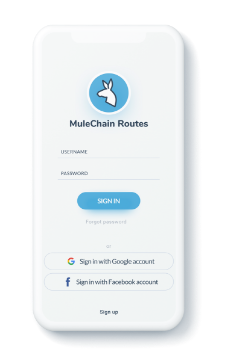 NEM Community Fund Proposal
1. Why Now?
It's the right time because centralized corporate models such as Uber, Amazon and other companies are taking much of the consumer logistics and MuleChain can provide a reliable and secure alternative decentralized solution. Previous attempts at the creation of P2P logistic applications and networks had no real way to monitor and police the it, hence no scaling ability. The innovations in blockchain & cryptocurrency now make it possible to introduce a Token which acts as both currency and collateral and solves the trust (hence scaling) problem of P2P logistics.
2. Why NEM?
MuleChain is being developed as a hybrid (centralized/ decentralized) platform and we opted for NEM as the preferred blockchain to use. Here are a few reasons:
NEM's blockchain platform has the ability to handle large volumes of transactions at low costs.
Technology is important to us. NEM places a lot of emphasis on supporting developers. They understand that the developers' success is NEM's success.
The NEM community around the world is active and growing and now has a global reach. We are very keen to help contribute to these global communities.
Unlike Ethereum, NEM does not require complicated cryptographic knowledge – our tech team can use the languages and tools they are most efficient with in order to deliver what we feel is a solid project.
NEM's permissioned private blockchain delivers industry-leading transaction rates for internal ledgers and its proof of importance (POI) consensus mechanism and Supernode program ensure that NEM's open, public blockchain can grow without ever compromising throughput or stability.
3. Which NEM Features Will We Use?
NEM's Smart Asset System will be used to set up a MuleChain Namespace and Mosaic for the MCX token.
Financial and Mobile payments will be used to handle MuleChain transactions. We need to leverage the speed, low transaction cost, and reliability of the NEM blockchain. The ability to write new blocks in a matter of seconds on the Main Network is crucial as the first MuleChain product, MuleChain Routes, heavily relies on real-time communication and transfer of funds. For example, once a Requester receives an item and marks it as delivered, the Mule who provided the service should be able to see his updated balance via the mobile application immediately after that.
MuleChain also requires the Escrow Services provided by NEM. We will need to set up trustless accounts that can hold, verify, and release funds to different parties based on multi-signature contracts. In the MuleChain Routes application, a Mule and a Requester that have been matched for a delivery must both put up the delivery fee for the Requester and the cost of goods in MCX tokens as collateral for the Mule before the services are completed.
Since NEM makes it easy to create payment applications, we can even explore options to buy MCX tokens, send to friends, etc., by creating a byproduct, MulePay, similar to PayPal but for the MCX tokens.
Many of the Business Management features go hand-in-hand with the abilities of the MuleChain API. MuleChain will need persistent, untamperable records to track all deliveries, requests, and pack station holdings. These must be 100% accurate at all times, never tampered with, and completely transparent in the eyes of any MuleChain users. Particularly with the immediate release of MCX tokens held in escrow as payments, we can't afford for any documents or records of services to be inaccurate.
Mules and Pack Station Owners will have their services and performances rated for timeliness and efficiency, with the Smart Asset design and Certificate Issuance features, we will be able to reward those who have had exceptional performances with publicly viewable certificates awarded by the MuleChain platform.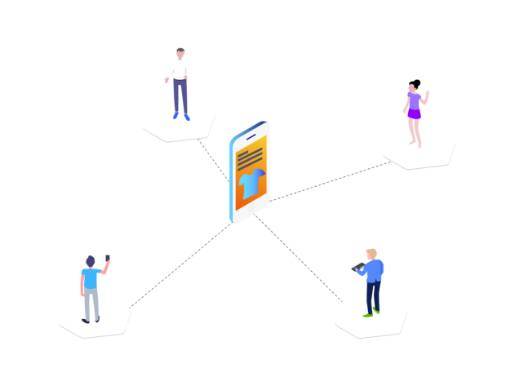 4. Mission
Our mission is to transform the global P2P delivery and logistics industry and create millions of new jobs while doing so. Our initial projections based on deployment in 75 cities is 3.5 million users within the first five years. After these initial five years, our focus will shift towards reaching out to the vast underprivileged majority of the world's population to allow them to use mules and pack stations as a day to day service, especially in areas where postal package delivery systems are not very developed. We hope that you will support this proposal, see the value it can bring to the community, and be a part of this revolution!
5. Problems
Low trust in current P2P logistic networks :
While there are many P2P networks available to deliver goods, none of them have grown to significant adoption levels. Most have relied on the good-will of the community, user profiles and reviews to generate trust in the system.
But compared to the delivery experiences that the current corporate-level centralized carriers offer, the trust mechanisms in the online P2P networks are sometimes seen as extra work and often leave users with a sense of risk involved in the transaction. The savings associated with using these networks are also minimal because of high cross-border processing fees.
Limited delivery options :
Speed is one of the leading considerations for customers. Next-day and two-day deliveries are currently the industry standard in all developed countries, but not same-day delivery. The next logical evolutionary step is affordable and reliable same-day delivery.
To provide same day deliveries retailers need ample square footage to turn existing aisles or back rooms into storage for online orders, and they must locate their distribution facilities near major metropolitan areas where real estate is expensive. A few have managed to do it well like Amazon, which was largely successful by making same-day delivery free of extra charge to their Amazon Prime memberships. They cut traditional fulfillment allowing a longer cut-off window to meet service levels and invested in new emerging technologies such as shuttles, robotics, and automated sortation and retrieval systems (AS/RS).
Unfortunately, these advantages are not accessible to the vast majority of retailers due to the costs involved.
6. Solutions
MuleChain: Secure & Reliable P2P Logistics
Imagine…
Millions of entrepreneurs working for themselves on a decentralized P2P logistics network. - Postal parcel delivery services operating in places where they do not yet exist.

Human logistics networks being deployed overnight to face natural or human disasters.

Public transport services becoming job providers for the unemployed.

Any person who has rented real estate space such as apartments, houses, local gas stations, restaurants, airport boutique shops earning constant steady additional income by performing the pack station owner's role on the platform.
Seems impossible? Not anymore.
We are taking a platform approach to the development of MuleChain, that will enable developers to create a broad variety of logistics apps for all kinds of new P2P networks that request and transport items with very low risk and low level of involvement from a central authority. MuleChain-powered applications will require each participant to have "cryptocurrency collateral" in the form of MCX tokens to perform requests or deliveries. The token allows us to engineer MuleChain in a way where trust is inherent in the system and enforced by smart contracts. Enabling MuleChainpowered Apps to legitimately be able to mobilize third-party vehicles, bicycles, walkers, local commuters, cross-border travelers, and more.
7. MuleChain Routes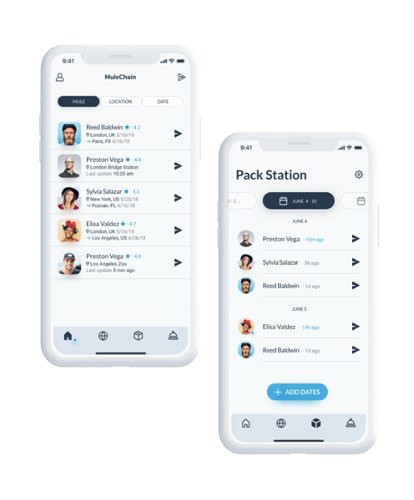 The first MuleChain product, MuleChain Routes, will provide part of the solution through the following parts:
Mules
The mules could be:
non-professional occasional travelers working as cross-border mules.
local professionals conducting last mile e-commerce delivery to households.
local messengers for documents, couriers for parcels or even food delivery drivers delivering items in local cities and neighborhood communities.
The "Mule" service is kind of like an "Uber" for goods and freight. However, unlike Uber, the MuleChain platform is completely decentralized, meaning that the mules work for themselves, with the assistance of the MuleChain platform.
Requesters
Requesters can be any individual needing to use a postal service. They can create requests for local or international products that they would like picked up and delivered. They will be able to set the price they are willing to pay for the delivery service, and the MuleChain platform will match Requesters with the Mules who have itineraries that fit the requests.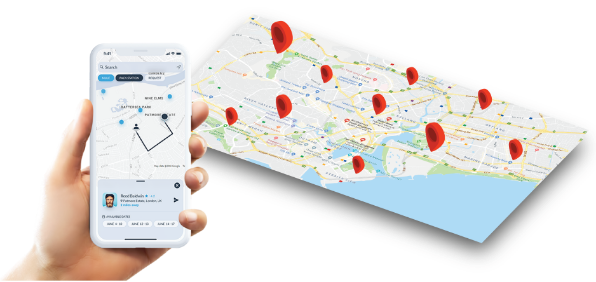 Pack Stations
MuleChain will also provide opportunities for independent individuals to use their unused living space as a "Pack Station". Pack stations serve as relay stations and warehouses. Several pack stations can be used throughout the supply route of a package and acts as an "Airbnb" for goods and freight. Every owner of a pack station can set fees to compete with others, and will also to offer complimentary services such as added security, refrigeration, etc.
Pack stations need to hold an appropriate number of MCX as collateral of equal value for all stored packages. Pack stations are awarded a small percentage of the delivery fee as an incentive for providing services. Pack station owners are therefore able to earn an income for letting requesters and mules drop off and pick up small parcels, sentimental trinkets, or documents that they approve. On the technical side, Pack Stations are essential to the MuleChain system and are similar to drop off points of other large delivery service providers, making the MuleChain network more effective and efficient.
8. Benefits For NEM Community
Transaction volume
As the adoption of the MuleChain network grows, the transaction volume will also increase. By forging this partnership, we aim to create an entire ecosystem on NEM. The increased transaction volume will improve both the visibility and value of XEM as a currency and everyone's ROI in the process.
Increased visibility of the NEM blockchain
MuleChain is proud to associate with NEM and excited to display NEM as the blockchain of choice at our website, mulechain.com. We firmly believe that the success of MuleChain and NEM are closely linked together.
Enabling NEM users to spend their XEM
We believe cryptocurrencies have got to move beyond being solely an investment asset. This initiative will enable XEM holders the ability to use their XEM holdings to buy MCX at a discount for a specified period during the first registration stage. On an ongoing basis, XEM holders will also be able to continue purchasing MCX tokens in secondary markets to use the services provided by MuleChain.
Increased usage of NEM and XEM
As MuleChain starts getting widespread adoption, it will increase awareness of the NEM blockchain, thereby encouraging the development of more use cases on NEM, with its plug and play smart asset blockchain platform.
Establishing NEM as use case for logistics and P2P delivery industry
The launch of MuleChain will put NEM on the radar of key-players in the global P2P and logistics industries that are thinking about incorporating blockchain technologies into their businesses.
Real life case study
Provide a real-world product in the form of an application where anyone with a mobile phone can evaluate and take part in, earning an income in the process.
Partnerships
Partnerships we create with mobile application owners through our platform will further increase the visibility and distribution of NEM.
Contribute to ecosystem development
Our developers will share their experience by creating articles about our challenges, milestones and success which will help the community at large develop applications with real life use cases.
9. Milestones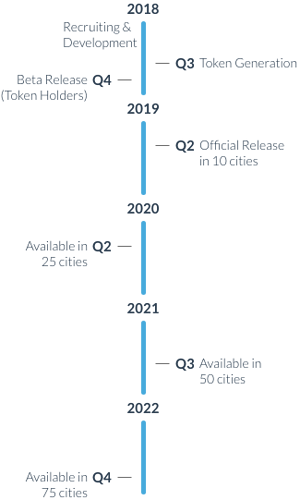 Current State
The MuleChain team has been working diligently to setup the infrastructure and workflow to bring this project to life.
Application mockups for MuleChain Routes have gone through initial design and are undergoing final revisions.
MuleChain Routes demo application has been discussed and added to the project board.
Development tools & workflows, web servers, company communication tools, project management boards, and leadership roles are in place.
Blockchain engineers have been given access to DevSlopes' Certified NEM Developer course.
Phase 1: Initial Development ($200,000 USD/1,245,624 XEM released by September 2018)
July 2018 to September 2018 (2 Months)
Appoint crucial members for full-time work.
MuleChain Routes mockups finalized.
UI mockups have been developed with static data.
Development for user authentication, registration, KYC process, and NanoWallet (XEM wallet) associations are completed.
Appoint legal counsel. Prepare local language legal contracts.
Engage key regional directors to work on the preparation of test cities.
Phase 2: Development & Alpha Release Preparation ($200,000 USD/1,245,624 XEM released by November 2018)
September 2018 to November 2018 (2 Months)
Development of MuleChain API.

Match algorithm that acts as the business logic when it comes to users having requests matched with Mules and Pack Stations.

Further Development of MuleChain Routes.

Bare bones Mules, Pack Stations, and Requesters features.

Mosaic and Namespace created on test network.

MCX token mosaic created under the MuleChain namespace on the NEM blockchain.
Transactions and features tested on NEM's test network.

Further website updates and development.

MuleChain's website updated with content describing the functionality and benefits of using the MuleChain platform.

Static Demo Release

Static demo build of MuleChain Routes available for public.
Preparation for Alpha release.

Draft local language legal contracts and regulatory compliance.
Local marketing in test cities.
Phase 3: Development & Closed Beta Release ($200,000 USD/1,245,624 XEM released by February 2019)
November 2018 to February 2019 (3 Months)
Finalize Alpha build for internal beta testing.
Research and development for quick and reliable ways to convert MCX into Fiat.
Addition of feasible features into Beta release.
NEM blockchain integrations.

Escrow service functionality via multisignature contracts.
Transactions for MCX handled via MuleChain API on test network.

Development of Live Chat communication functionality into application.

Requesters, Mules, and Pack Stations involved in a request will be able to communicate directly via the application without having to disclose personal information (eg: phone number, email address, etc.).

MuleChain Routes' Beta release with following production-ready features:

Mules/Pack Stations registration and verification process.
Create requests for items and get matched with Mules and Pack Stations.
Build geolocation and Google Maps API to search for nearest Mules and Pack Stations.

Develop further specs on local language and app functions for test cities.
Continue to draft local language contracts and regulatory compliance.
Local marketing in test cities.
Phase 4: Open Beta Release ($200,000 USD/1,245,624 XEM released by May 2019)
February 2019 to May 2019 (3 Months)
Bugs fixing and additional features required for Open Beta release.
MCX transactions on NEM's main network.
Test launch of MuleChain Routes live service in three cities.
Three cities to be named
Begin development for MuleChain web application.
Aggregate user feedback and use data to improve MuleChain platform.
Develop local language and app functions for other test cities.
Implement local language contracts and regulatory compliance in MuleChain Routes.
Conduct further local marketing in the text cities.
Full product launch with extended features for MuleChain Routes and Web Application.

User ratings for Mules and Pack Stations.
Automatic suggestions via geolocation.
Advanced Google map views.
AI integration into matching algorithm in order to optimize complex itineraries.

Full REST API for MuleChain platform.
Begin research and engineering for third-party consumption of MuleChain API.
Devote resources to company security and data privacy.
Fine-tune local language and app functions for all operating cities.
Build local offices and conduct local day to day city operations.
Perform global and local marketing in all operating cities.
ICO Position Addendum
Due to the fact that a cryptocurrency token MCX is essential to the success of the operation of the MuleChain platform, we will continue to assess the timing of our intended ICO in order to generate the liquidity of MCX for the members of our platform to satisfy their business needs.
The other factors that will affect the timing of our intended ICO would be the future financing needs of our global business operations which will largely depend on the future potential revenue from business operations as well as the future potential success of obtaining alternative financial support from conventional VC sources and/or other regulated crowdfunding activities such as Reg CF, Reg A+, Reg D and Reg S after the funding by NEM Community Fund. If we conduct a public ICO before the deadline date as specified in the NCF new guidelines, we will refund in full the NCF grant awarded.
We will continue to update the committee of whether and when we will actually hold the ICO along the way of our business operations. As of now, we can say that it is in our plan to eventually hold an ICO.