Please note this proposal is not requesting funding for just an idea. We already have a platform that has been working and running since 2014.
We are a core team of three, who are working full time to develop and grow the MyCryptoSaver platform from Auckland, New Zealand.
We were in beta for two years (serving friends and family) and launched publicly in 2016 allowing anyone in New Zealand to sign up and start saving cryptocurrencies. We currently have over 5000 NZ users, we have established social media profiles with large followings on Facebook and Twitter, we have delivered crypto talks at companies such as PwC, been finalists at the paymentsNZ fintech awards, have partnerships with NZ and UK banks and have held many crypto events here in New Zealand.

EXECUTIVE SUMMARY
MyCryptoSaver is the longest running New Zealand crypto platform looking to aggressively expand globally whilst also updating its offering to include XEM in its crypto distribution engine to join Bitcoin and Ethereum. When we expand to the UK in the coming months we will be one of the only (if not the only) platform to allow direct GBP to XEM payments to buy XEM and XEM to GBP payments to sell XEM due to our exclusive banking partnerships. As we don't store crypto on our platform, all crypto deliveries are sent to our users personal wallets meaning we will be getting thousands of people opening new XEM wallets to store their XEM. Alongside this we are also looking to provide quality NEM educational content for our new and current users who are mostly first time crypto users. To help us complete the above we are asking for $250,000 USD of XEM.
MyCryptoSaver allows first time crypto users the ability to effortlessly buy cryptocurrency each week either through Dollar Cost Averaging (DCA) or Instant buying. With DCA our users can set up weekly, bi-weekly or monthly FIAT payments each Monday and we deliver them their chosen Crypto on Fridays. With Instant Buying/Selling our users can purchase or sell their chosen crypto 24/7 and have it delivered into their wallet within a few minutes or cash into their bank account the next day. We do not host crypto wallets, our users setup their own personal wallets, we never hold any crypto ourselves as it is always sent to our users personal wallets. MyCryptoSaver has securely and reliably distributed crypto to thousands of our users each week based on the amount of FIAT they put in that week and what their sliding scale distribution is (e.g. 20% of their payment into Ethereum and 80% into Bitcoin).
Delivering XEM on our platform will provide numerous positive benefits for the NEM community. Firstly it will introduce over 5000 kiwis to NEM and get them to download a NEM wallet. It will also bring NEM to potentially millions of people in the UK who will be able to buy XEM with GBP through our platform as well as be educated via videos, blogs and infographics. This educational content won't just be for our users but will be online on multiple sites for anyone in the world to see and be introduced to NEM.
PLEASE NOTE: We have previously raised a seed round of $400,000 NZD in November 2017 with Techemy as our lead investor however we currently don't have the resources to implement XEM onto our platform which is why we are seek community funding for this project. We have one full-time developer but due to the low margins we take on our weekly crypto delivery, we don't currently have the resources to be able to securely add XEM onto the platform, market it and create an educational hub around this technology.
INTRODUCTION
MyCryptoSaver was one of NZ's first crypto companies. We launched in 2014 and spent 2 years in private beta before our public launch in 2016. At MyCryptoSaver we predominantly help people that are brand new to cryptocurrency get setup with a wallet and buy crypto hassle free with FIAT payments. We also are a go-to platform for experienced crypto HODLERS who want a simple way to Dollar Cost Average crypto.
The way our business works, is that a user signs up and receives a unique reference number. They then setup an automatic bank payment of any amount between $20 - $2000 with a weekly, fortnightly or monthly frequency. With a slider on their account page, users can determine how much of their payment goes into Bitcoin and/or Ethereum. This allows them to save crypto into a portfolio they control automatically.
We ask our users to send the money to us on Monday which we then send to a large overseas exchange on the Tuesday. It usually arrives on the exchange on the Thursday evening and we buy Crypto and mass-distribute it out to our users personal wallets on the Friday. As we buy in bulk we can offer Crypto at a better rate compared with other crypto brokerage businesses in New Zealand and UK because FX fees and international bank transfer fees become negligible per user.
We have spent four years fine-tuning and updating our mass crypto distribution engine, which is able to reliable and securely process and distribute crypto to thousands of people at once. It also has the ability to scale to hundreds of thousands of transactions. We currently have over 5,000 NZ users and the majority of them are first time crypto buyers. It is important to note we don't hold crypto on behalf of our users. Cryptocurrency and responsibility go hand in hand and we emphasize that with our user base by getting them to setup their own Bitcoin and Ethereum wallets where we send their crypto to. We recommend Trezor wallets to our users, and will not offer coins to our users which can not be stored on Trezors.
We will be launching our platform in the UK in the next few months. This will bring MyCryptoSaver and the crypto it offers including XEM to 65 million people with 11 million of those being millennials. We will also be one of the very few crypto businesses in the UK with a secured business bank account, able to accept GBP for crypto. This means we will be one of the only if not the only place in the UK that will allow direct GBP -> XEM purchases.
We have also now just released our instant buy/sell feature allowing our users to buy and sell their chosen crypto instantly 24/7. This enables our users to choose between DCA or Instant buying of their crypto or both!
Furthermore, we are developing a white-label product for our Instant Buy that will allow for explosive international expansion of FIAT -> XEM purchases.
THE PROBLEM
Cryptocurrencies are an amazing and revolutionary new technology but there is still a large technical and educational barrier of entry for the average person, preventing them from taking part and growing the ecosystem. Also many people that do actually take part don't fully understand how the technologies of each crypto work, what benefits they provide over a centralised payment system or even how to safely store their crypto.
For cryptocurrencies like XEM to take off, more people need to know what their benefits are and how they work. They need to be introduced to them early on so they have a good crypto experience with a good cryptocurrency compared with a useless token. They need to be given the tools to know the difference between a 'shit coin' (a premined, under-developed, overhyped, totally not feasible crypto) and a legitimate coin. Legitimate coins need to be promoted and offered to first time crypto users.
THE MYCRYPTOSAVER SOLUTION
MyCryptoSaver provides a platform that allows anyone new to cryptocurrency a simple and hassle free way to buy crypto as well as be educated about the technology. Our platform design is inspired loosely from what you might see from a banking interface to help familiarise first time crypto users and not scare them off!
We want to give everyone the ability to easily get involved in this revolutionary technology. Part of this not only involves using and promoting cryptocurrencies but also selecting the right ones to use and promote.
As we are generally catering to people new to cryptocurrency we have a limit of $2000 NZD a month that a user can spend on crypto. This not only keeps a new users exposure low if ever something was to happen to their crypto due to them being first-time crypto users, but also keeps our banking partner happy.
We have architectured our platform to be as seamless as possible for first time crypto users.
Sign up to MyCryptoSaver
Provide a crypto address or follow our steps to open a crypto wallet
Receive bank payment instructions (the amount and frequency under the users control) for DCA or be directed to our Instant Buy for a quick crypto purchase.
Get directed to a savings dashboard that tracks all your payments and the value of your saved crypto
Be alerted via SMS each time your DCA crypto delivery is made
We have also created a slider for users to be able to easily decide how much of their recurring bank payment goes into Bitcoin and Ethereum. The slider will be updated to include XEM.
A user can stop their payment at any time and can also sell back the crypto they have saved through us at market price.
Our platform is also perfect for users that want to keep accurate tax records of their transactions via our transaction page:
We have global ambitions. We have successfully now served over 5000 New Zealanders for four years and later this year we will be launching in the UK with further expansion plans for Europe and the United States shortly.
We want to be the main website people come to when they want to buy cryptocurrencies for the first time, as we provide such a simple service where our users are in complete control of their crypto, alongside this our educational content helps people understand exactly what they are buying and how they can safely store and send their coins.
We want to add XEM to our service offering alongside Bitcoin and Ethereum. Our objective is to get XEM into every Kiwi and UK cryptocurrency holders hand, while also educating them about the NEM technology and having each of them set up their own NEM wallet. We want XEM to be just as popular as Bitcoin and Ethereum in the regions we operate in. Adding XEM to our platform would involve been able to mass-distribute XEM to thousands of people at once, being able to create videos and online webinars to help our users set up a NEM wallet.
HIGH-LEVEL TECHNICAL IMPLEMENTATION
To make distributing XEM to our customers possible we will start by investigating the pros and cons of setting up our own NEM Infrastructure Server (NIS) server versus utilising existing supernodes for both development and production environments.
Next, we will setup delivery wallets that we can programmatically access so they can be used to send XEM to multiple recipients. As low transaction costs and speed of delivery are important factors for our business we will experiment with different settings to find the ideal balance between transaction costs and delivering XEM to our customers in a timely manner. We will be utilising the NIS API to sign and send transaction data to the NIS.
The high-level process of delivering XEM to our customers is outlined in the diagram below:
On the days that we deliver crypto our the delivery service will get the details of customers that are saving XEM. For each customer the delivery service will create a transaction, sign it and send it to a NIS via a POST request to the /transactions/announce endpoint. This will return the transaction hash that we store in our system for future reference. Once a transaction is included in a block, the transaction gets processed and the amount stated in the transaction gets transferred from our account to that of our customer.
INSTANT BUY
Along with our weekly Dollar Cost Average crypto purchases we have built an 'instant buy' feature allowing our users to also buy crypto instantly through our platform.
Here is a video demoing the service.
Providing this feature for XEM will further allow anyone in New Zealand and the United Kingdom to instantly buy XEM with NZD and GBP.
We will need to find an exchange that offers XEM with robust API's that we can use for the automated instant buy on our platform.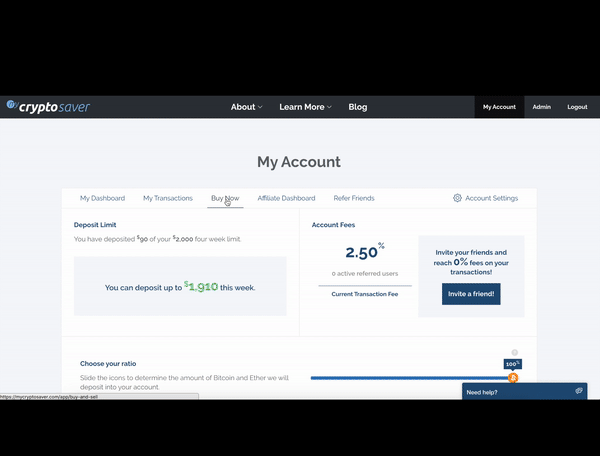 INSTANT SELL
After the addition of Instant Buy to our platform we will be adding 'Instant Sell' which will allow our users to instantly sell any crypto they have bought through our platform back to us at market price 24/7.
The addition of an instant buy and instant sell will cement our platform as an all encompassing 'lite crypto exchange' similar to coinbase but decentralised as we never hold crypto for our users.
CORE TEAM
Sam Blackmore is a Software Engineer (BEng) and has been involved with Bitcoin since 2012, he is also an avid Linux user and Open Source Software advocate. He founded MyCryptoSaver (then called MyBitcoinSaver) in 2014. He previously co-founded a successful web development company with over 10 staff and before that he built a weather forecasting startup that he sold. He built the first version of MyCryptoSaver himself.
Matt Gibson has always been in the startup world. He has been involved with Bitcoin since 2014 and he founded one of NZ's most successful tertiary websites while studying for a BSc which is used by over 100k New Zealand university students each year. Matt loves mixing creativity with new technological trends.
Wouter has come from managing the dev team at one of NZ's most prestigious digital architecture agencies, Pixel Fusion. He is a coding whizz with PHP frameworks and managing teams of developers.
WHY NEM
NEM fits the above selection criteria very easily with us, NEM has great bespoke technology, a blockchain built from the ground up, their initial distribution of coins was done fairly with no pre-mine and they have a native app as well as the option to store XEM on a hardware wallet. A prerequisite for deciding whether a coin is suitable for our platform, is whether or not it can be stored on a Trezor.
XEM is a cryptocurrency we want to give as many people as possible access too. It can handle thousands of transactions a second and has a real use-case other than pure speculation and unfounded ideas like so many other coins. XEM also has very low tx fees which makes it far more efficient than Ethereum and Bitcoin.
MILESTONES
Roadmap
Recruitment of NEM blockchain development capability
Mockups designed for our account page, transaction page, three-way distribution slider, homepage for the addition of XEM
XEM education roadmap for video, blog and infographic releases
Consultation from Blockchain labs on the addition of XEM onto our platform
Set-up a NEM delivery wallet for our crypto distribution engine
Development
(Integration of NEM into our system, frontend and backend changes)
Build a NEM protocol into our framework
Integrate NEM API's into our backend system
Integrate XEM Exchange API's for Instant buy
Front-end changes to the account page, transaction page and wallet address input page to include NEM
Build complete of the three-way slider for XEM, ETH and BTC
Integrate with an exchange for XEM instant buy
Add XEM to our instant buy feature
Security review of our system changes with the addition of XEM
Trial first test XEM delivery
Content
(Building our NEM education content on MyCryptoSaver)
Education 'tab' built into the account dashboard
Introduction to NEM video completed
How to buy XEM in New Zealand and UK video completed
How to setup a XEM digital wallet for both the Trezor and native wallet video completed
How to send XEM from your wallet and other functionality video completed
How to add NEM to your MyCryptoSaver account video completed
XEM advantages over other cryptocurrencies infographic completed
Why we chose NEM blog post completed
Launch
Successful XEM send to 50 test users
Deployed the XEM platform additions to our live site
The release of launch Blog and video
Launch digital marketing campaigns across New Zealand and the UK
Adoption
$10,000 NZD worth of XEM sent out to our users
200 XEM wallets added to our platform
XOAM (Xem Open Air Market) event organised in central Auckland.
REVENUE MODEL
We take a 3.5% fee on each transaction. This includes when we buy back crypto and when we sell crypto. All our fees are taken in crypto and we move it in FIAT currency when needed.
BENEFITS TO NEM
Increased transaction of XEMs
We will get 5,000 New Zealanders opening XEM wallets and storing XEM in them to start with. By introducing so many people to NEM and a lot more as we grow and expand, we will naturally be growing the ecosystem and the popularity of XEM - therefore increasing it's value.
Thousands more XEM wallets opened
We will be launching in the UK being one of the only Crypto companies allowing GBP -> XEM purchases. As we do not host wallets, everyone that makes a purchase of XEM will need to have created their own XEM wallet.
NEM specific marketing
Furthermore all our paid marketing over the next 3 - 4 months will feature NEM or be focussed on NEM which will make millions of people aware of this amazing technology.
NEM educational content
And lastly we will be making XEM educational videos, blog posts and step-by-step guides which we will be putting online for free where hopefully not just our users but anyone that is looking to get started with NEM can watch or read and help them buy, store or understand XEM.
Providing FIAT to XEM Instant Buying
There are very few platforms around that allow you to instantly buy XEM with GBP or NZD. By adding XEM to our instant buy platform we will be dramatically increasing the ease at which XEM can be bought with FIAT and bringing more people onto the network.
MyCryptoSaver hosting a day long event at PwC Auckland
MyCryptoSaver running a BOAM (Bitcoin Open Air Market) event in Auckland
HOW MUCH XEM WE ARE ASKING FOR
We are looking for $225k USD (currently 1,202,061.78 XEM)
This will be partly be used to pay for consulting and any specialised development needed to implement NEM into our system and be able to distribute XEM to thousands of addresses simultaneously.
The money will also be used on marketing the addition of XEM onto our platform. The marketing will consist of digital marketing as well as organising events to host XOAMs (XEM Open Air Market) in NZ.
Lastly the money will be used to develop and create videos and other interactive content educating our users and anyone else about how NEM works, its technology and how to setup a NEM wallet.
MARKETING STRATEGY
PR
We have access to the world's largest blockchain PR agency, Wachsman through our partnership with Techemy. We will use them to try get televised and online press in the UK when we launch there.
Referral scheme
We currently have a referral scheme that allows users to reach 0% fees if they refer 7 active users. However we will be changing this to users being able to earn 25% of the fee we make for each user they refer for life.
Educational content
High quality educational videos for other cryptocurrencies besides Ethereum and Bitcoin can be hard to find. By creating and distributing great content we will be driving more users to MyCryptoSaver to follow the source of the video.
Social media/Reddit
As Facebook has just lifted the ban on crypto advertising we will use it as one of our main channels to market MyCryptoSaver and NEM. Furthermore we will reach out to subreddits and telegram groups to advertise MyCryptoSaver to all those members too.
Partnerships
We have a partnership with Brave New Coin the digital currency insights company that we can work together with to provide NEM market data and chart analysis to our users and to the general public.
WHITE LABELLING - INTERNATIONAL EXPANSION
We will be offering a white-label solution to our Instant Buy which will allow anyone to set up a crypto instant buy platform to their website or as a standalone service. The Crypto instant buy platform will enable anyone in the world to buy XEM with their credit card or bank account. Think shopify for crypto. This will allow rapid and explosive expansion of FIAT -> XEM platforms for crypto beginners all over the world.
CUSTOMER FEEDBACK
Some of our customer feedback below:
"Honestly, all I want to say is thanks so much for the service. It's so easy and really makes buying crypto hassle free. I really really appreciate your service. Will be using for a while to come! Love the new addition of Ethereum and the tool to choose the percentage of btc and eth to buy is so cool. Really love it! Good work team!" - William Goodman
"Legend guys, so glad I found you. Gonna make the process much quicker and cheaper.
Thanks" - Josh Cowan
I've been using your service for a couple years now, it's brilliant. - Sam Frost
"Used the saver service for several months, no fuss and works just as described; set and forget. This is bar none the best means to purchase crypto regularly right now if you prefer delivery to your own cold storage address. Any questions and Matt and the team respond quickly. Highly recommended." - Joel Finds