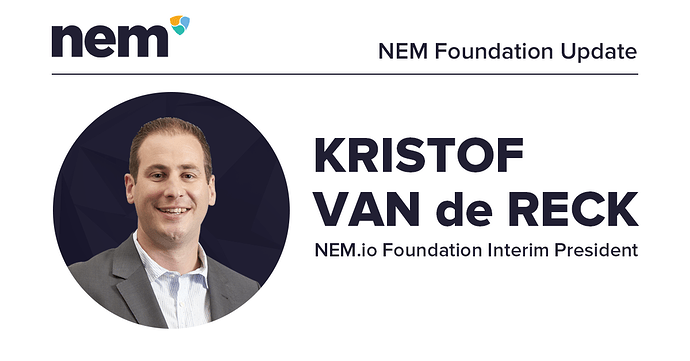 TLDR; NEM will be featured on the international TV series Blockchain Superstars, NEM China partners with 3U, AUS and New Zealand launch new NEM blockchain Hubs, BTT Cloud and Unibright join the NEMsp Network, North America participates in a roundtable at the United Nations, LATAM goes big with partners, new regions, and events.
"NEM prioritizes long-term value over short-term gains. Our priority is to build strong partnerships with companies and to educate others on the power of the NEM protocol. The recent expansion of the new NEM Blockchain Hubs in AUS, NZ, and Malaysia is a testament to our commitment, platform, and innovation." - Kristof Van de Reck, Interim President
Ongoing Planning Efforts
Tech/Marketing/Business Development documentation is still under review.

The Council continues to work through the election timelines and processes.

New proposals were reviewed and outcomes will be shared in the coming weeks.
Partnerships and New Projects
NEM will be featured on the upcoming international TV series Blockchain Superstars and include an overview of the NEM protocol as well as interviews with Kristof Van de Reck, Jeff McDonald, Alexandra Tinsman and Jason Lee. NEM's segment will be introduced by a AAA celebrity American actor (to be announced soon.) The episode will air this Fall across the U.S. and in 50+ countries. The series is produced by NLTV, the award-winning company behind hit TV shows like The Sons of Anarchy and The Good Wife.

The NEMsp Network signed on two new companies, BTT Cloud, and Unibright. Training continues to go well.

NEM Philippines is working with several new projects including CEstates, a real estate platform and also ReadyPlayGo, a gaming platform with a full portfolio of games ranging from traditional casino games to innovative social games and real money games.

NEM China has established a strategic partnership with 3U (Ubiquitous Unbounded Unions) Blockchain Academy. 3U will be supporting an upcoming meetup at the JW Marriott in Chengdu alongside local government associations and will have over 30 media in attendance.

NEM North America has partnered with the Austin Blockchain Collective, which is leading activities to provide tangible benefits to Texas blockchain/crypto companies and projects including the UT McCombs School of Business, City of Austin, Capital Factory, Dell Medical and other technology/business organizations.

NEM LATAM has formed an alliance with Token Partner (the Blockchain Chamber of Commerce) to do large-scale meetups at the Universidad Santo Tomas of Bogotá.
Product Updates
Updates in progress but not ready for announcement.
Global Expansion, New Hires, Notable Events
Australia & New Zealand - We now have new NEM Blockchain Hubs in Australia and New Zealand. Located at The Precinct in Brisbane's Fortitude Valley and EPIC Westport at Westport, these Hubs will have dedicated NEM representatives responsible for sharing the basic foundations of blockchain and cryptocurrencies with the public and community members. They'll also be supporting startups and larger enterprises who are looking at adopting blockchain for their business. This will be through regular activities, workshops, hackathons and forums held throughout the year.

Brasil - The Brasil team has confirmed participation in the CriptoCWB event in Curitiba. It will be the first NEM event in the south of the country and is expected to have over 500 people in attendance. Also, the first Brasil meetup is planned this month at the Blockchain Academy, one of the most prestigious blockchain centers in Brazil. The event will be attended by ambassadors Alex Braz, João Lyra, and include crypto expert and NEM supporter, Noah Meireles.

China - NEM China Regional Head, Steve Li, and team member Leon Yeoh, visited the Ministry of Industry and Information Technology where Steve presented a NEM primer to Dr. Pu and his team. Dr. Phu's leads public chain research at the Saidi Research Institute, MIIT. NEM China is actively applying for the Blockchain Eco Alliance of China, which is a government association led by Saidi Research Institute, MIIT.

Columbia - Rafael Torres has joined our team as a developer to help advocate NEM technology. Also, a NEM meetup was recently held with 40+ people in the city of Medellin, where the event focused on Latinem real use cases and the first technical training provided by the NEM Bogotá team.

Dominican Republic - The first Nem 101 was carried out by Ambassador Hugo Pascual.

Japan - The Japan team held a NEM 101 in Sendai with 25+ in attendance. Topics included an overview of NEM technology, a summary of the Raccoon Wallet made by the Japanese community, highlights from the newly launched NEM Blockchain Center in Malaysia, the ease of shopping/paying with XEM at the NEM goods store, a sponsorship with the "Reina Lady's Soccer Club", and special guest, Rin Mizunashi, who is well known white hacker.

LATAM - The LATAM team is working with one of the largest Columbian consultancy franchises (to be announced soon) on blockchain evangelization that will extend to events, consulting projects, implementation, and branding. A new NEM team member has joined as Media Manager and will be responsible for overseeing Spanish social networks.

North America - NEM NA continues negotiations to establish a new Blockchain Hub in Austin Texas. This past week Regional Head, Alex Tinsman, participated in a UNOPS roundtable discussion in New York with leaders including Tadej Slapnik, the State Secretary from the Republic of Slovenia. Mark Price from Devslopes partnered with NEM North America to run the first NEM 101 meetup at the Galvanize co-working space.

Peru - Partnership discussions are underway with the Mayoralties in Metropolitan Lima. There is also planning around the preparation of the first NEM meetup in Peru.

Philippines - NEM Philippines supported the NEM Taiwan team at the Asia Blockchain Summit this past week. Also, the NEM Philippines team has expanded and hired two new business development managers.

Puerto Rico - The NEM embassy in Puerto Rico is working alongside the InterAmerican University of Puerto Rico Metropolitan Campus regarding having a NEM booth for the upcoming University Exposition. The University is exploring different academic opportunities with their computer science and economics departments.

Thailand - NEM Thailand traveled to Singapore this week to facilitate the NEM project, Xarbon, at the Asia Pacific Climate Week hosted by the UNFCCC. Xarbon co-founder, Jeffrey Liu, presented. The Thailand team also attended a talk on Exchange Security with many experts at BitTemple in Singapore in partnership with Huobi and BlockAsia. The next evening, we co-hosted with the Singapore NEM team. Country Lead, Laura Takenaka, did a NEM 101 followed by two presentations on Xarbon and the HIT Foundation.

Ukraine - Launched an educational YouTube series on the NEM Nano Wallet and is finalizing new partnerships to be announced soon.

Uruguay - NEM Uruguay Ambassador, Ignacio Varese, was invited by the Catholic University of Uruguay to be a Speaker at an upcoming event called "Introduction to Blockchain and NEM" on July 25th.