Dear alls,
Let me introduce NEM Harvest Summary twitter bot that tweets harvesting fee summary everyday.
https://twitter.com/NEM_Harvest
What's this?
Tweet below daily stats everyday.
Average of harvest fee
Median of harvest fee
Max harvest fee
NULL Block(whose fee is 0) percentage.
Here is an example.
It means that average harvest fee was 0.62 on 2018-07-07. Same in median(=0.15) and max(=42.54).
29.7 % blocks are without transfers on that day.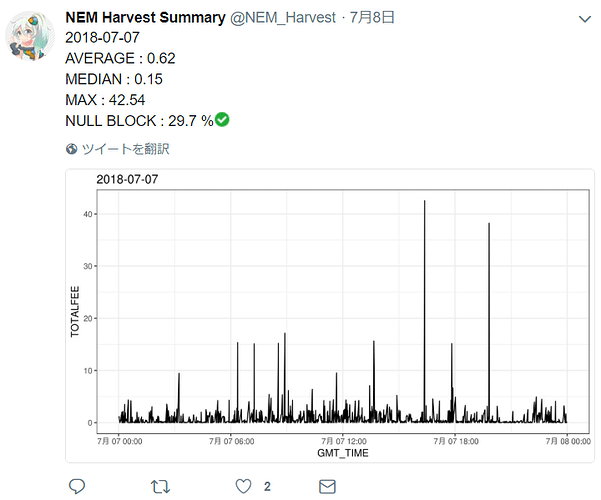 Time zone is UTC(NIS default). It tweets around UTC 3:00 because the developer and most followers are Japanese, live in UTC + 9:00 zone. Can tweet again at another time if any request.

Though it is widely used among Japanese NEMbers, it is helpful for ones in other countries since it tweets in very simple English.

Sometimes it tweets miscellaneous notifications both in Japanese and English.
Other activities related to this project
Publish a report about harvesting/NEM network every month. (ongoing)
Now it is only in Japanese but I'm eager to translate it to English if huge demands.
In last month, it analyzed about "Transition of number of unique senders/receivers in NEM network".
You can buy one in nemche only in 1 XEM.(NOTE: now it is only in Japanese.)
https://www.nemche.com/item/yhxmNUNb7HSqYI7YWKV0

Create a support page which let you know detail of harvesting and this service.(progressing)

Integrate with Dashboard application(progressing)
Will update this beta version dashboard (with data until 2018/03):
https://he23.shinyapps.io/nem_dashboard/
I hope this twitter bot helps you stay informed about NEM network/harvesting activities in very simple way. Thank you for reading.