@namuyan My withdraw button is greyed out/disabled so I am unable to withdraw. What is causing this issue?
Address: NDZMUB7GAML4BTPZX5ID77E6F3ZAQMDOGUTKYLOA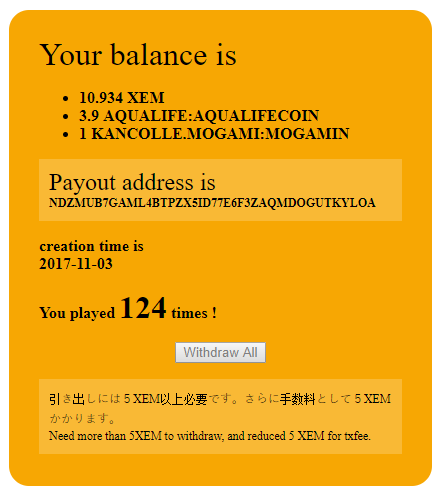 Same problem for me, can't withdraw, please check my address too:
nadjqlnxs5nhkegngmjm2mwnjt674ibtf3vg6m6z
Could we all have an update on the suspicious account withdrawal issues?
1 KUNG-FUNG:COIN что это означает.мне выпало на кране
I made a withdrawal from the faucet. But did not get XEM.
No transaction in explorer.
http://explorer.ournem.com/#/s_tx?hash=36998d736bb41161646bff1bf2dfe0cca99c3188df308126ecd3ff6f9abdc249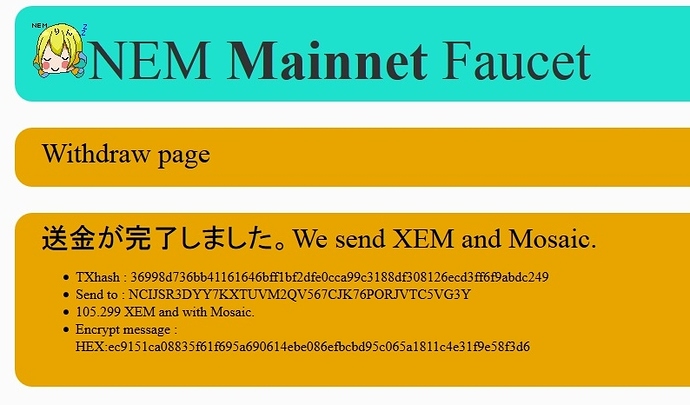 Please help.
I made a withdrawal a day ago but have not received my XEM in my Nanowallet. My node is green. Is there currently a delay because of the holidays? Below is my transaction details.
Remittance has been completed. We send XEM and Mosaic.
TXhash: 9cb315aef38c07a217a253cd560c12c8cc5e4c53ae4fdca2859b365d1526f884
Send to: NB7TABTJK3SKENJU55BU3ZA53MH7JPKUHAP4DZSV
56.03 XEM and with Mosaic.
Message Encrypt:
HEX: 7F656887d6d40e0ce2f31d5022c734d188886b1eb21116f02c54dbbaf6dd5ec7
На кране удалил coockie как востановить акаунт
こんばんは。
出金で以下のようにエラーが発生します。
•ErrorMessage :Cooke data is too old. Please twist at one!
•InnerMessage :
•Send to : NBXMNZ7HVGZ3REQI4TAVBTQUPFNSZH6D4MYNON52
•Fee : XEM
•Encrypt message :
どうすれば出金できますでしょうか?
1日経過後、再度試したところ以下のエラーが発生しました。
http://192.168.3.16:7890/namespace/mosaic/definition/page?namespace= messagecoin
messagecoin
重大な例外エラー:Cannot find Mosaic info. messagecoin:ohayou:276
どう対応すればよろしいでしょうか?
また1日経過後、再度試したところ以下のエラーが発生しました。
重大な例外エラー:Cannot find Mosaic info. kancolle.mogami:mogamin:276
Now the Withdraw All button is accessible, but I get this error message:
エラーが発生しました。
Error has been occured.
ErrorMessage :Cookieのデータは既に使用されています。Faucetを複数の機器で使用していませんか? Detected copy cookie data, not allowed. Please remove and recreate account with same address.
InnerMessage :
Send to : NBT7IGCRKUKHSBIZ2XSPHVYQPNT736RM5TSPIJET
Fee : XEM
Encrypt message :

What does this mean? I've been using faucet on the same machine for months, I do not wish to lose 430+ claims! Please help!
Hi all,
I'm not sure why all of a sudden I'm facing duplicated cookie issue. I have been playing nem faucet for 200 over times and always have been playing with my phone only, somehow today it starts to have withdrawal issue. Could you kindly help me resolve the issue? I do not want the effort go to waste


My payout address is : NAQ27DJS5JW7FTTC6Y4WEM5ZF2XRAXT6DG2BJD23
Greatly appreciate your help!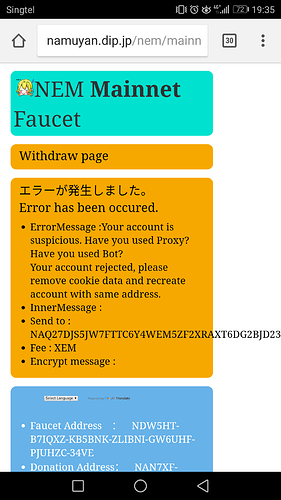 i have problem in your web page :
Your balance
0.444 XEM
1 NAMUYAN:NEMRIN
1 GOX:GOX
2 KUNG-FUNG:COIN
1 OCKNAMO:OCKNAMO
1 KANCOLLE.MOGAMI:MOGAMIN
CookieDataを複数検出しました。(Dupricate cookie found)
Faucet Address : NDW5HT-B7IQXZ-KB5BNK-ZLIBNI-GW6UHF-PJUHZC-34VE
Donation Address: NAN7XF-G52NL3-V5AW3N-TSYO77-AVR6X5-LYRJKX-WKHY
can you fix it please
Faucet owners, I followed your error code instructions, and removing the cookie burned over 24 XEM worth of claims… address is NBT7IG-CRKUKH-SBIZ2X-SPHVYQ-PNT736-RM5TSP-IJET, please HELP!
Hi @namuyan,
I tried to make a withdraw and got this message: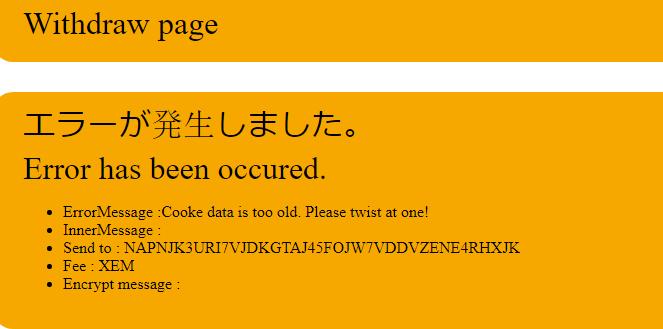 Now, i also get the message of dupricate cookie, and the withdraw button is disabled.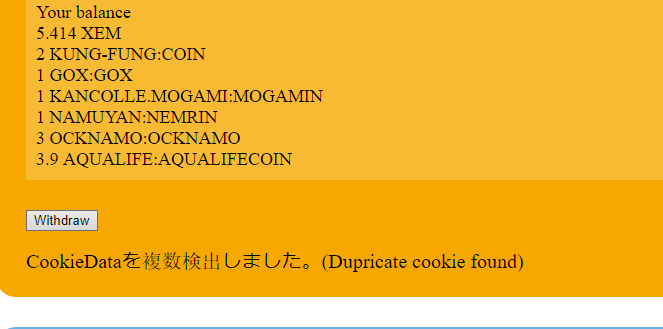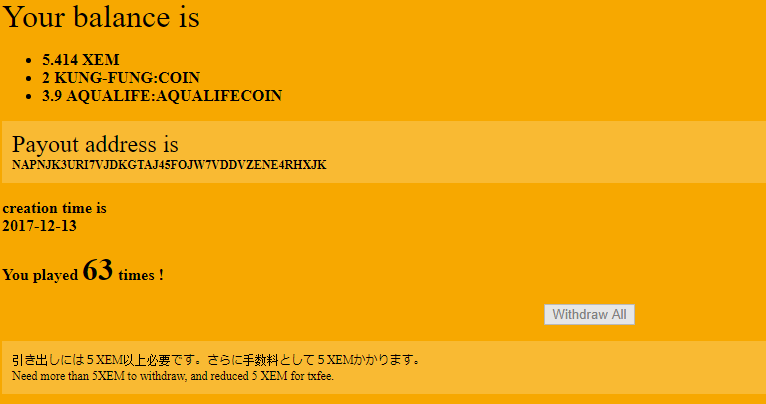 I haven't opened it in another browser since the first time I tried and got this message, what should I do?
My NEM adress is NAPNJK3URI7VJDKGTAJ45FOJW7VDDVZENE4RHXJK.
Please help me!
How do I get back my 105 XEM? I made a withdrawal from the faucet, but got nothing! No XEM, no transaction in explorer.
Please help me get my XEM back.
TXhash : 36998d736bb41161646bff1bf2dfe0cca99c3188df308126ecd3ff6f9abdc249
Send to : NCIJSR3DYY7KXTUVM2QV567CJK76PORJVTC5VG3Y
105.299 XEM and with Mosaic.
Encrypt message :
HEX:ec9151ca08835f61f695a690614ebe086efbcbd95c065a1811c4e31f9e58f3d6
I made a withdrawal from the faucet. But the output is rejected with an error



My NEM address is NACFIQNAQVDRKPDW2TVESKZAQY3THNUQQALUGGD2
Hi, can I check is there any updates on this?
CookieDataを複数検出しました。(Dupricate cookie found). Нашли старые запросы крана,как их объединить?
Удали куки и введи новый адрес, все полученное ранее пропадет. Другого способа нет. Адрес изменить нельзя