Good day to the NEM community!
NEM Merchandise shop is an official online store that enables blockchain enthusiasts to purchase high-quality branded products in order to facilitate a favorite blockchain platform. Endorsed and supported by NEM Foundation and Cyberblox Sdn Bhd (Malaysian IT company, co-founder of LuxTag Sdn Bhd), the NEM shop is aimed to spread the word of NEM community over NEM branded merchandise: long and short sleeve t-shirts, polo t-shirts, mugs, pens, stickers, and famous NEM ninja dolls.
Excellent quality of the authorized production, possibility to pay with XEM (NEM cryptocurrency), and the shipping all over the world opportunity make the NEM Merchandise shop an ultimate trustworthy platform to support NEM and become a recognizable member of the NEM community.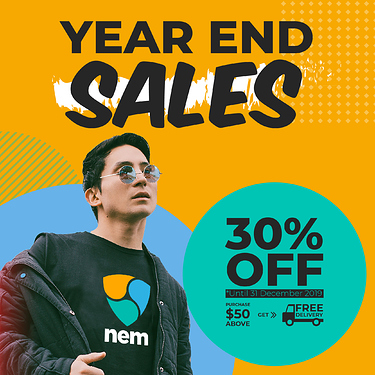 The most fabulous Year-End Sale has already started at the NEM Shop! Don't miss the opportunity to purchase limited NEM merchandise with a 30%-off discount and free shipping over the world for orders >US$ 50 until December 31st.
Visit the store: https://shop.cyberblox.my