click on the "38" and then send me a message.
Hello! Registered on forum but can not send PMs… How to participate in this case? iOS user
I do not see send message link or button. I also can not upload images…
Here are the new bounty levels.
We now have releases for both iOS and Android we are testing on the mainnet. Please join our Telegram chat to be a part of testing. PM me with your telegram username and I will add you.
Latest Android release for the mainnet is linked in the OP of this thread. We also have a new testnet version for Android.
And iOS now has a mainnet release that has been pushed to testers.
Please test, bounties are still being paid.
where can I download binary? The link seems to be missing.
I have allready waited a few months to get iOS mobile app for mainnet, because I have hesitated to send any email address to the forum. I also just rescovered in this thread that my iPhone 4s might not be supported.
Therefore I´d like to know
is there still a chance that you could "go and add addition backwards compatibility to officially support iPhone 4s (as you hoped you do)"? and
is there any idea to join iOS beta anymore if the mainnet app is allready (about to be?) released?
I still can´t find iOS mobile app for mainnet in App Store so how is this release going to happen?
the app is finished. I'll need to check on my iPad to see if 4s will be supported, but he might have added that.
the only thing we are waiting on now is trying to register with the Apple App store which proves to be difficult.
I wish it won´t be too difficult!
I hope that 4s will be supported cause it is still working quite fine with me.
Hi Espo (and Jeff)!
Do you know if there Is anything to be done with it??? It worked like that with your iOS 9.31 but could it work allready better with iOS version 9.3.5 (13G36)???
Would also be nice to know the agenda with:
If I register multiple accounts in one wallet file (one .wit file) with NanoWallet, if I do QR import for each account with Android-Wallet, they all have the same account name.
I think that the account name is better than the wallet name for the import QR code displayed by NanoWallet.
i newbie …i try nem mobile adroid …i need to know where account address …how to backup this app if u need reinstall or reformat your mobile divice…sorry my english not good
You can backup the private key, and then you will be able to load that account into any wallet in the future.
Everytime when I open the app (just if it was really closed before), it apears an error message.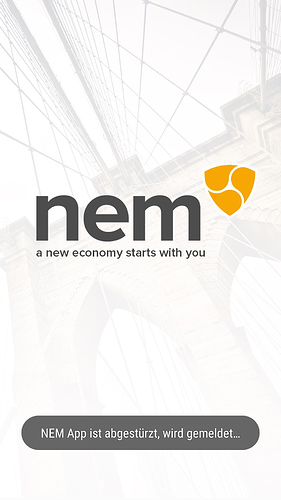 App version: 1.066 BETA
Handy: OnePlus 3T
OS: Android 7.1.1, Oxygen OS 4.1.6
OS: iOS 10.3.2 (iPhone 7+)
Task: Scan QR Code
Interaction: White Screen Displayed
Causes: Potentially time-out on iOS gives issue
Application account: NCHHN3R6Z35QPROUZGX3ZDIAE5VMY4GAS7IDH7YT
Trying to send some NEM on NEMMobile 1.1.2 build 1 (iOS iPhone 7+) to another account and wanted to scan the receiving address QR code using the camera, but it showed a white screen.
Steps: Open app --> Touch ID --> Open Account --> QR (bottom) --> Scan QR (top right) ==> white screen
I checked the app has access permissions to phone camera
if I wait about 5 - 10 seconds the camera comes on
if I go back to NEM Account and repeat process same happens
BTW: I did sent the NEM and only paid 1 NEM fee - brilliant!!!
BTW: been a long time user, first Linux NIS, then MacOS NIS, and now Nano Wallet. Love the mobile progress too!
OS: iOS 10.3.2 (iPhone 7+) & Android 7 (Samsung Galaxy Tab S3)
Task: Export account from iPhone to Galaxy Tab
Interaction: Scan QR from iPhone on Galaxy Tab
Causes: Enter password ==> "Importing Failed, Incorrect Password)
Application account: NCHHN3R6Z35QPROUZGX3ZDIAE5VMY4GAS7IDH7YT
Trying to play with NEM Mainnet on Galaxy Tab by importing iPhone NEM app account details.
Steps on iPhone - NEM v 1.1.2 build 1:
Open app --> Account --> More --> Export Account --> Use application password ON & Confirm --> (shows pub key & QR code)
Steps on Galaxy Tab - NEM Mainnet v 1.0.66 BETA-Mainnet:
Open NEM Mainnet --> Add Account --> Scan QR Code --> <camera on & scan iPhone QR (from above) --> Enter Password --> Importing Failed, Password Incorrect?
Am I doing something wrong or is there a bug?
New bounties for issues on GitHub.
A bounty of 500 XEM for every legit bug or enhancement. There will be a reward of 250 XEM for regular issues reported, and 100 XEM for minor but actionable issues.
Many people didn't leave their NEM address in Github. Please do so.