NEM Symbol Snapshot & Launch - 14th January 2021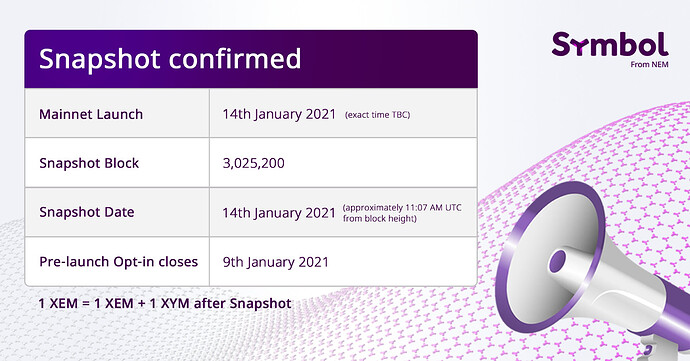 Translations:
NEM Group wishes to confirm that Snapshot and Symbol mainnet launch will take place on 14 January 2021.
As we work through and finalise the last remaining components of the technical launch roadmap, specifically Core Server, TestNet Patch, REST + SDK, Wallets and Node Monitoring, it is clear that the cumulative technical risk across them all together will result in a delay to launch of 1-2 weeks.
This delay would bring the launch date into the middle of the Christmas and Holiday period which is not a sensible time to launch a new platform. There will be limited internal and external resources (exchanges, regulators etc) available at this time, which we believe creates an unnecessary risk to the successful launch of Symbol. Therefore launch and Snapshot have been moved by 4 weeks to a sensible date.
In agreement with the Core Team, including the Core Developers, confirming the Snapshot and launch date for 14 January 2021 not only gives us sufficient time for the final elements of testing to be completed but also significantly increases our confidence in the delivery of a successful launch. To summarise:
Launch: 14th January (exact time TBC)
Snapshot Block: 3,025,200
Snapshot Date: 14th January (approx 11:07am UTC from block height)
Pre Launch Opt-In closes: 9th January
The Genesis/Nemesis block is expected to be created on the 14th January within a few hours of snapshot and XYM tokens will be distributed in the Genesis/Nemesis block to all accounts who have opted in prior to the pre-launch opt in closing in accordance with the terms and conditions of the opt in process.
We recognise that this short delay will disappoint some. However the combined teams unanimously believe that it is necessary to mitigate some launch risk. It also brings absolute certainty to the Snapshot and launch date which we think will provide much needed clarity to everyone in our Community and beyond.