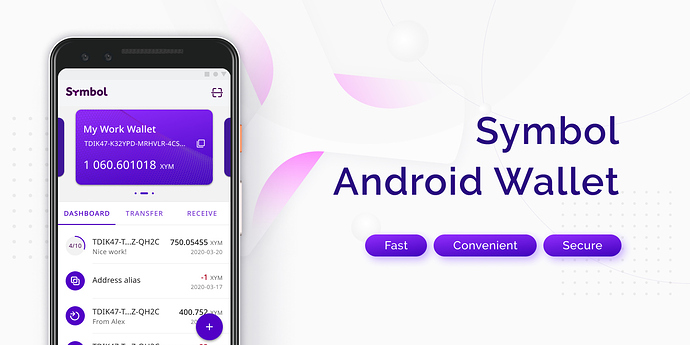 Intro
Hello everyone. As you already know, active preparations are underway for launching Symbol. I noticed that there is no news about the results of the development of a mobile wallet. I saw a topic on the forum where there was a discussion of a mobile wallet, but its design differs in functions from the web version. I also note that Material Design was developed in 2014, and now it is used in almost all Android applications. I'd like to see Symbol mobile application modern and convenient.
The aim
To offer the community a native design of a mobile wallet for Android.
Project work
The development of prototypes, mockups and animation was done by Liliia. I advised on the technical side.
Where can you see?
Presentation of the work posted on Behance (clickable).
Cooperation.
If the community likes this job, then Liliia is ready to work with NEM to implement the design. It is possible to develop transitional options for interactive integration. Subsequently, in these colors it is also possible to develop a native design for iOS.