Want NEM Polo shirt? Our e-commerce guy 自由 has announced his special stored products for overseas NEMbers.
This is all what he has left for the first batch.
dark blue
M 2 L 3 XXXL1
light gray
M 1 XL 1 XXL 1 XXXL1
Red
S 2 M 2 L 2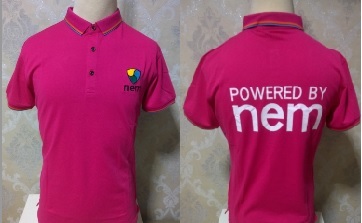 The price of the shirts are 7500 XEMs
Shipping price:
Europe & America:
12000 XEMs for 1or2, 3500XEMs for each 1or2 after that.
Asia pacific:
7500 XEMs for 1or2, 2500XEMs for each 1or2 after that.
Here's the size chart:
Size Shoulder chest length tall weight

Weight is in half kgs.
If you want it, please send the color and quantity you want, your recipient's address, phone number, name in english encrypted to NDUE5Q-XXWJPV-TUBUQN-P2FPWW-GM2VNR-GKROXO-I2GR
You may send mutiple messages if the length is not enough.
As we have limited supplies, first send first get, if we're running out of supplies, the orders will be rejected and you will get refund.
You could pm ronel from telegram if you have any questions, might not be active here.