Hello,
Last Saturday I created my NEM wallet, and then tried to exchange some Bitcoin for NEM on changelly.com, to put it in the NEM wallet. The website went through all the transaction steps with no problems, and eventually showed a confirmation ->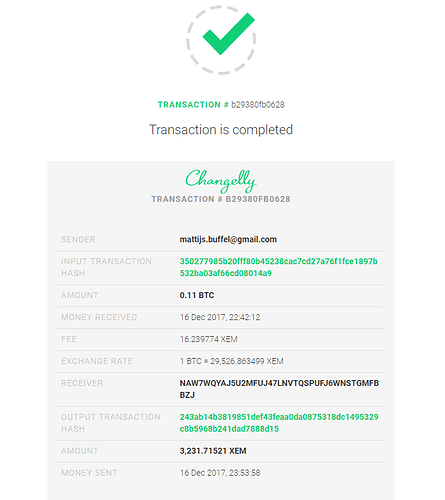 Up until now I never received anything in my wallet. The amount is still 0.
I must say that at the time of the transfer, no node was selected yet in my wallet (red icon), so this may have something to do with it. I also didn't add a NEM message to the transfer, but afaik this is not necessary.
So the Bitcoin is removed from my Bitcoin wallet, but I didn't receive the NEM. Is there anything I can do to fix this? I've already contacted changelly support twice, but no response yet.
Thanks in advance for any help