---
NOW UP FOR VOTING!

YES address - NC3U4F-XINNY5-6YPIWM-PRYREI-OB6MBI-AWUB3S-UHCL
NO address - NC44AW-3GRVUL-3BLOVQ-SW4OGF-WCFSHH-GYMZQZ-MZSG
---
Hey! This is a revision of the previous topic CoderSchool Funding -- Collaboration with NEM, proposed by @n3lz0n. Many of the technical details (and all of the ensuing discussion) still hold; but this is a summarized and retargeted proposal.
UPDATE: Video interview with Charles Lee, one of parties of this proposal here: https://www.youtube.com/watch?v=YvSixS7joZs&feature=youtu.be.
CoderSchool x NEM Developer Advocacy Proposal
Overview
We propose for CoderSchool and the NEM Foundation to work together in 2018 to introduce developers to NEM Blockchain technology.
COMMUNITY SPACE COLLABORATION: dedicated home for a NEM Blockchain Developer Group in Saigon. A dedicated "NEM Foundation Collaboration Space", where events can be held and experts can reside.
IN-PERSON TECHNICAL BOOTCAMPS AND ONLINE CATAPULT CONTENT: CoderSchool will develop new NEM modules to integrate alongside the Solidity and Hyperledger modules in their industry-leading blockchain bootcamp. We'll also generate 2 detailed online interactive video tutorials in English and Vietnamese, tentatively planned for for the two most exciting new features of Catapult:

Aggregated Transactions
Multi-Level Multisignature Accounts

MARQUEE EVENT COLLABORATION: community building for NEM.
1. 2 NEM Hackathons
2. 1 Regional Blockchain Education Summit
TOTAL ASK: 1,000,000 XEM (~229K USD as of 4/4/18) split across 4 Milestones.
Key Active Members
Kimble Ngo


Kimble is the NEM representative for Vietnam and works closely to engage the local community and government. Kimble is a blockchain expert and advisor. He has worked with a variety of blockchain firms in the areas of strategy, tokenization, compliance, and marketing. He has extensive experience in Investment Banking, specifically around KYC and Compliance. He has previously managed multi-million dollar businesses and has worked on projects for Samsung, Pepsi, and Nestle. He is also a well-known personality through his hosting Startup
Charles Lee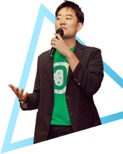 Charles is the founder of CoderSchool. He's developed curriculum, taught, and organized classes for over 350 successful CoderSchool graduates, including the all-new Blockchain Technologies course. He brings over 10 years of experience in software development and education in Silicon Valley, where he developed and taught for Bloc.io and Walmart Labs. He holds a degree in Computer Science from UC Berkeley.
Milestones and Financials
Milestone 1 - Course and Space Kickoff: 200,000 XEM. (April 2018)
• Trainer Identified and Allocated
• Course Announcements and Timeline
• Event and Office Space for NEM
Milestone 2 - Training Phase 1: 200,000 XEM (July 2018)
• 1 NEM Bootcamp Deployed
• Aggregated Transaction Online Tutorial Deployed
• 1+ Community Event Run
Milestone 3 - Training Phase 2: 300,000 XEM (September 2018)
• 2 NEM Bootcamps Deployed
• 1 Hackathon Run
• 2+ Community Events Run
• Multi-Level Multisignature Accounts Online Tutorial Deployed
Milestone 4 - Training Phase 3: 300,000 XEM (Dec 2018)
• 2 NEM Bootcamps Deployed
• 1 Hackathon Run
• 2+ Community Events Run
• Blockchain Educators Summit Run
Additional Information
About CoderSchool
Established in 2015, CoderSchool offers high quality, fast-paced training for engineers across Android, iOS, Ruby on Rails, React Native, UI/UX, and Blockchain. Our curriculum was originally developed in Silicon Valley and is in official use at many leading tech companies, such as Facebook, Netflix, and Intuit.
In Vietnam, we use this same curriculum in addition to curriculum we've developed on our own, and have taught over 300 engineers. CoderSchool alumni have gone on to work at leading tech companies such as Uber, TinyPulse, Lazada, Wizeline, Sentio, Saleshood, Tiki, Mingle, and Silicon Straits.
In addition to regular Demo Days, which have seen as many as 500+ attendees per event, we host regular meetups for the community featuring guest speakers on exciting new technologies and topics, such as Data Science, Artificial Intelligence, Electric Vehicles, Chatbots, Entrepreneurship, and others.
95% of our students would recommend our course to a friend, and we're currently rated 5.0/5.0 on CourseReport. We've received over 3000 applications for entry into our program. For more about CoderSchool, you can also visit http://www.coderschool.vn.
Coderschool Teaching Staff
We have had many world-class engineers teach classes at CoderSchool. Our teachers come from companies such as Google, Stripe, Intel, and TinyPulse.
Event Space
CoderSchool will officially launch their brand new 540 sqm. campus in downtown Ho Chi Minh City in April 2018. We'd like to be the home for NEM events and NEM experts to reside. We could do co-branding with NEM on the event space or classrooms, and reserve private working space for NEM experts and community members.
Community
CoderSchool has a long history of developer advocacy and community building. Over a thousand developers have attended CoderSchool tech talks and Demo Days. CoderSchool also is the official organizer for the Tech in Asia City Chapter in Ho Chi Minh.
Further Questions?
Charles - @chug2k on Telegram; [email protected] on email