Community Fund Proposal:
MiCai - the world's first AI based private wealth management protocol built on the NEM blockchain.
UPDATE:
After reviewing some of the feedback regarding the feedback of the community, as well as talks with the NEM Foundation Council, we'd like to announce that we will postponing the official voting to give us some time to interact more with the broader community and provide better understanding of our project. We hope to re-engage with you all early next year with more information on the development of our protocol and our ICO plans. On behalf of everyone at MiCai, I'd like to thank you all for your encouragement and feedback, we are very grateful for this learning experience.
Wishing you and your families a safe and merry festive season, and Happy New Year!
Greg
This project has been vetted and approved by Lon Wong, President of the NEM Foundation (who is also on our advisory board as an equity holder), Stephen Chia (NEM Council Member and head of Southeast Asia) and Jason Lee, Global Director of Partnerships and Strategic Alliances. We are also backed by CEO of Morgan Stanley Bank AG. We have already begun working with several NEM engineers and technical trainers to move our data and systems to NEM in order to expand our platform further.
We have publicly mentioned NEM on Bloomberg TV and China Central Television.
The founders and several venture capitalists have already invested over USD 5 million to expand our company operations to manage over USD 60 billion in investments. All the claims made in this document have been/will be cross verified by the NEM Council.
See the MiCai Protocol in action MiCai by watching this video
Our aim is to enable NEM to become the main blockchain for private wealth management.
Please vote to support the development of MiCai.
The NanoWallet Poll Address will be posted later this week.
Thanks, NEM Community!



EXECUTIVE SUMMARY
Globally, High Net Worth Individuals (HNWIs) are said to have a combined wealth worth USD 63.5 trillion. However, the market cap of crypto wealth within this same group of individuals is only a small fraction at USD 50 billion. This represents a significant market opportunity.
MiCai is introducing the world's first Artificial Intelligence (AI) based crypto wealth management platform built on the NEM blockchain. With proven success launching ground breaking wealth management projects, MiCai aims to provide access for HNWIs and wealth management firms worldwide to transform traditional assets into digital assets. By doing so, also providing ease of transactions, greater security, certainty of compliance, and administrative economies through our MiCai protocol.
Aside from our experience, we believe that the key to making our protocol a success is having the NEM blockchain as the core technology foundation, and gaining the support of the NEM community so we can collaborate and contribute to the NEM ecosystem, and share the benefits of this untouched opportunity.
THE OPPORTUNITY
MiCai will be the world's first AI and blockchain driven crypto wealth management platform, powered by NEM. This partnership will become the leading use case for the USD 63.5 trillion[1] private wealth management industry and will reinforce NEM's positioning as the leading global business-focused smart asset platform.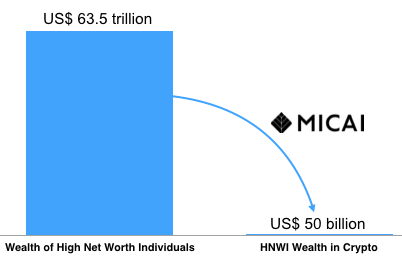 It is a well-documented fact that HNWIs* are early movers into new technologies or adopters of new asset classes. Currently, existing financial service infrastructure cannot support the growing demand of HNWIs—and the private wealth management firms advising them—to leverage the potential of crypto wealth management. Financial institutions that serve HNWIs operate in a very fragmented market which makes them heavily reliant on third parties like MiCai for technology infrastructure. Our NEM x MiCai platform provides the solution to ongoing infrastructure problems financial institutions face by pioneering mass adoption of blockchain technology, and paving the way for HNWIs to access and distribute crypto wealth as asset class.
MiCai is well-positioned to deliver this platform to market through our unparalleled fintech and traditional wealth management experience. In China, we launched the nation's first Robo-advisory service—currently used by over 200 000 HNWI to manage over USD 60 billion in financial assets. We are also backed by leading VCs, the CEO of Morgan Stanley Bank, Stephen Chia (Head of the South East Asia region of NEM) and Lon Wong, President of the NEM Foundation, who is an advisor on our team.
The success of our platform will be a positive benefit to all NEM supporters as we increase the global profile of NEM blockchain technology and drive growth in XEM value. We seek the support of the NEM community to ensure that we all benefit from this significant market opportunity to increase investment in digital assets.
*HNWIs defined. High Net Worth Individuals (HNWIs) are individuals (and families) with more than $1M USD in liquidity. Often, this demographic are the earliest adopters of new asset classes.
THE PROBLEM
Currently, the wealth of HNWIs is worth USD 63.5 trillion globally. However, the market cap for HNWIs crypto wealth is only a fragment of this at USD 50 billion. Chinese HNWIs in particular contribute to USD 15 trillion of this global wealth, with less than USD 10 billion in crypto assets.
Despite the significant market opportunity available to grow crypto wealth, investing in crypto presents the following challenges:
Crypto can be difficult to access and, once acquired, difficult to diversify.
Privacy and data breaches are a persistent risk.
Product distribution is costly—typically a high-touch, manual process across private wealth management.
Compliance costs are high. (Approximately 25% of a private wealth management firm's costs result from compliance and security.)
Lack of uniform reporting standards and consistent master data management.
THE SOLUTION
At MiCai, we're developing the world's first crypto wealth management platform to increase market access and flow of crypto assets. The MiCai protocol is an open-source API built on the NEM blockchain, and incorporates the entire ecosystem for private wealth management. This means that NEM will become the core technology upon which HNWIs will rely on to diversify their wealth into crypto.
MiCai Apollo is the operating system that will be used to access our MiCai protocol. Features of this operating system are already in use at several private wealth management firms based in China. HNWIs and their advisors will be able to access the MiCai protocol through Apollo, or for financial services firms, through our white-label service.
The MiCai protocol is comprised of three main parts:
Modules (mID, mReport, mRisk) which establish the foundation and global standard of all transactions that occur within the protocol, and
Functions (mTokenize, mLoan, mMarket) which enable the creation and flow of crypto assets, and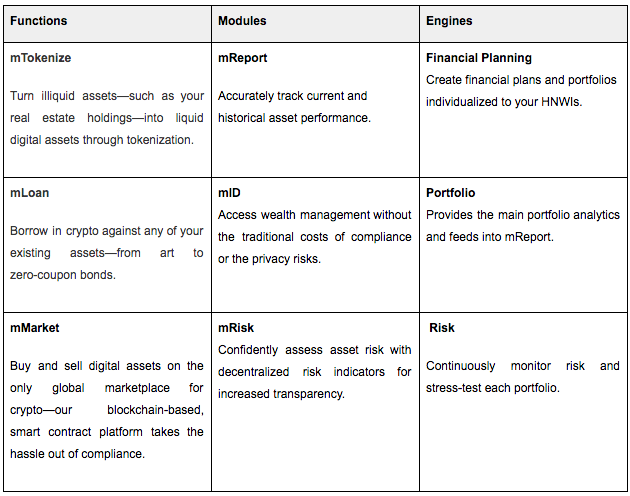 OUR BUSINESS MODEL
Our MIC token is the building block of the MiCai ecosystem, providing token owners with access and usage rights to the MiCai protocol. Our Apollo interface will allow direct investors (B2C) to easily access the protocol through us, whilst a white-label solution enables wealth management firms (B2B) to license our technology and develop their own interface to service their clients.
MiCai will generate revenue from both B2C and B2B customers by charging a fee to initiate transactions through our protocol functions: mTokenize, mLoan and mMarket.
NEM COMMUNITY BENEFITS
We have been an active member in the NEM community:
"After having spending time with the team, it's interesting to see the project come to live. I believe digital assets of financial products and platforms is the future and blockchain allows for proper audit trails and transparency. The MiCai team definitely has great experience in developing systems for financial products and the understanding of various financial instruments."
  - - Shin Tatt Wong (Technical Trainer from NEM who trained the MiCai engineers in Beijing)
Having dinner and discussing MiCai & NEM's growth in Kuala Lumpur with Lon Wong, President of the NEM Foundation and Stephen Chia, Council Member NEM foundation and Regional Head South East Asia. Greg spent one week in Kuala Lumpur to work closely with several key team members.
We mentioned NEM on Bloomberg Television and CCTV, China's Central Television Network.
Our Community Funding Proposal will positively benefit the NEM community in the following ways:
10% of our MIC tokens can be claimed by XEM holders that have over USD 3000 equivalent of XEM.
Code will be open sourced in order to contribute to the knowledge base on which more successful fintech applications can be built on NEM.
Global Marketing and PR opportunities has seen NEM and MiCai receive global acclaim and media attention from Tier 1 outlets including: Bloomberg[2], CNBC, China Central TV, The Wall Street Journal[3], Financial Times[4], INC, The Economist, Tech in Asia and TechCrunch. This interest is set to grow over the coming months, as we launch our ICO event. NEM will continue to be mentioned as our partner across a variety of communications tools we will use including our website.
Increased transactions of XEMs as our platform will accept XEMs through our frontend. On the backend, transactions will utilize XEMs. This becomes a virtuous circle driving value to XEM holders and NEM community across multiple touchpoints in our protocol.
NEM will become the main technology behind private wealth management industry as we enable access and diversification to crypto wealth to an existing market worth around USD 63.5 trillion dollars. Our success in delivering this project will see NEM become the core blockchain application for private wealth management.
Increased visibility of the NEM from our project will see NEM recognized as the leading technology behind wealth management-focused smart asset blockchain. We are also backed by some of the world's leading VCs and investors and subsequently we see that this visibility and support will drive growth in XEM value and deliver a positive ROI for every NEM supporter.
Directly drive globally important partnerships from Day 1, as NEM will be put in the hands of 200,000 leading private wealth managers and HNWIs. In addition, MiCai will be signing partnership and client agreements with leading Banks, Fund Managers, Governments in Europe, Asia and North America, to drive adoption of our NEM powered platform.
Expand developer adoption across the world as we expand our operations, the developer presence of NEM will expand through MiCai's global team. We currently have 30 NEM developers working alongside our core development team to build our protocol. We will also be leveraging our partnership with large corporate clients to train them on the NEM blockchain to better customise service for their clients through our platform.
50% discounted access for NEM forum members to use our platform to perform transactions under mTokenize, mLoan and mMarket.
Setup of NEM Accelerator in Beijing within our office for firms focused on guiding teams working on NEM. This will allow us to collaborate with NEM community beyond the development of the MiCai protocol and contribute to the NEM ecosystem through our experience and thought leadership. We have the support of China's second largest e-commerce firm, Jingdong (JD.com, a firm with 200 billion USD revenue/year) as a partner for this accelerator program where we hope that JD.com will embrace the technology, for which it will be beneficial to NEM going forward.
NEM INVESTMENT FUND
Another key benefit of our community proposal is the establishment of NEM investment fund. MiCai will allocate USD 8 million of the XEM raised alongside additional capital we are raising through our investment channels to fund projects within the NEM community. We want to provide a sustainable contribution to help grow the NEM community in the same way it will help us grow. We will support this initiative by allocating funds to invest in the following areas:
Private wealth management industry innovators (30%)
We want to support our industry by providing funding to other private wealth management innovators to encourage increased adoption of blockchain technologies, in particular with NEM as the foundation of these innovations.
Business partners to strengthen our partnership and competitive advantage (30%)
We want to enrich the MiCai ecosystem by funding business partners who are developing technologies on the blockchain that can support and integrate into our key product solutions mMarket, mLoan and mTokenize.
Value chain key technology disruptors (30%)
We want to enhance the experience of our customers by investing in the overall value chain for wealth management firms and HNWIs. This includes areas such as: decentralized cloud services, data security, creative wallets, as well as payments and legal related services that support the activities of the value chain.
Seed companies (10%)
These companies will help support the development of NEM and MiCai in the longer term. By using funds to establish our NEM-MiCai Accelerator program we hope to continue driving brand awareness for NEM and MiCai, whilst also generating ideas and best practices for NEM, the MiCai platform and ecosystem, and being a mentor for other NEM community projects.
MILESTONES
We are requesting an initial 2 million XEM to kickstart our proposal, with an additional $1:$1 matching for funds raised during our ICO event up to a max of 20 million XEMs. We will utilize the total 22 million XEMs as follows:
FIRST MILESTONE
10% to be disbursed upon completion of the following:
A. Apollo Launch
  ● Launch the operating system used to access the MiCai Protocol, which links on firms' existing system such as CRM, dealing systems.
  ● Launch of new website for MiCai Protocol and white paper announcement that the MiCai protocol is built on the NEM blockchain infrastructure.
B. First Application of Financial Planning Engine
  ● Allowing private wealth management company to create financial plans and portfolios individualized to the client.
Second Milestone:
Phase I:
20% to be disbursed upon completion of the following:
A. Concept Design
  ● Build using Mijin and Mosaic our MiCai Protocol project that includes cold/hot wallet, web and app, fiat payment as well as NEM payment, linkage with and used by custodians/banks/other traditional financial institutions/HNWIs, smart contracts and smart assets, digitalize traditional assets, loan with cryptocurrency, blockchain-backed secure trading in the ecosystem of MiCai.
B. Protocol Architecture
  ● Design of mReport, Reporting and performance tracking protocol; mID, Identity Attestation; and mRisk, Risk Scoring for assets for customers.
  ● mID and mReport will be built up on top of NEM, and we name it the first dApp in the world for HNWIs and wealth management firms to easily and seamlessly to plug-in the blockchain world, to start the journey to allocate more traditional assets into digital or tokenized assets.
  ● mID and mReport will be the gateway for HNWI and WM firms to securely and anonymously store and transfer data with the lowest risk related to data leakage or missing or damage. We can expect a huge potential demand for mID/mReport usages to increase rapidly in next 3 years.
Phase II:
30% to be disbursed upon completion of the following:
A. Frequent Deployment Financial Planning Engine
  ● Connect the NEM platform functions with MiCai's Microsoft Azure-based front end solutions.
  ● Open source on API code to big WM firms and white label to small firms and HNWIs.
B. mWallet
  ● Complete security layering and hot/cold wallet protocol for the web platform.
C. First Application mID
  ● Includes: clients ID or passport info, suitability assessment, KYC and AML checking info, it will provide the web based solution as well as app based solution.
  ● Linked to custodians and also to clients' CRM system.
  ● Complete mID web platform proof of concept, beta/demo testing phase, and press release for MiCai protocol supporting the NEM platform and build and develop mID on top of NEM Mijin.
D. First Application mReport
  ● Links directly with custodians that hold assets.
  ● Solves the problem of proofing reported data. MiCai will link all the custodians to its mReport system that outputs their custodian data automatically into mReport's standard and stores it on the blockchain.
  ● Enhances transparency with a function of exporting the mReport format into a report that the client can see.
E. Pre-sale and Public ICO Event
  ● We'll start our Pre-sale and Public-sale during this phase with certain arrangement.
THIRD MILESTONE
20% to be disbursed upon completion of the following:
A. First Application mRisk
  ● Purchase the market data, including all data related to equity/fixed-income/cash and cash equivalent/alternative asset such as VC/PE/Hedge fund/REITS, to integrate with and be complementary to mReport and mRisk module of the MiCai protocol.
  ● mRisk will be built on top of NEM Mijin, and all data related mReport and mRisk need to secured and running in MiCai protocol as well as in NEM platform.
  ● Integrate mRisk into the MiCai protocol (NEM Mijin supported).
  ● Provide the web based solution as well as an app based solution.
  ● Provide training, infrastructure and partnership opportunities with our clients.
B. First Application mTokenize
  ● Allows clients to easily tokenize their assets to create Collateralized Assets.
  ● Use the tokenized assets to support loans (mLoan) or trade for other digital assets (mMarket), which will launch in next phase.
C. Risk Engine
  ● Take into account the mRisk and provides a series of risk metrics. The first set of metrics are statics such as VaR. The other feature is that the risk engine will calculate and stress test several scenarios.
  ● Give a basis of clean data upon which these AI engines can work.
  ● Provide open APIs as well to our data so other Risk Management providers can plug into the same data and other product recommendation engines can work on top of MiCai's.
FOURTH MILESTONE
20% to be disbursed upon completion of the following:
A. First application mLoan & mMarket
  ● Allow borrowing against the user's assets. A smart contract that will hold the title deed will serve as collateral.
  ● Complete payment and transaction back-end for the web platform as well as app usage for function of mLoan and mMarket.
  ● Integrate fiat payment gateway to the web platform to be available in major currencies.
  ● Work with banks or third-parties to provide the liquidity and match with client's borrowing requirements.
  ● Allows private wealth management firms and family offices accessing the MiCai protocol to distribute products in a way that satisfies both the jurisdiction of the custodian as well as the jurisdiction of the client.
B. Frequent Deployment mRisk&mTokenize and mLoan&mMarket
  ● Continuing marketing campaigns, with focus on attraction of more HNWI clients to use MiCai protocol. Get more family offices join to use MiCai to store their individual information (mID), have snapshot access of their investment portfolio/valuation/risk (mReport, mRisk), convert part of their assets into digital assets or tokenized assets(mTokenize), use the tokenized assets to support loans (mLoan) or trade for other digital assets (mMarket).
C. Setup of NEM Investment fund, focused on NEM based projects.
  ● USD 8 million of the raised XEM will go together with money we are raising ourselves from our channels and outside investors. The fund will invest in projects from the NEM community and will ask the NEM community for feedback on possible investments.
ABOUT MICAI
With a strong founding team of graduates from Oxford, Harvard and leading Chinese universities, MiCai has put together an exceptional team of wealth management experts and knowledgeable blockchain advisors to lead the successful development of the MiCai protocol.
In 2013, we launched the first robo-advisor of China, and today our solution is utilized to manage a combined assets under management (AUM) of USD 60 billion, with over 200,000 of the world's most wealthy clients. We sell our current product via global consulting firms such as Roland Berger, Bain and Accenture, and hold notable business relationships with private wealth management firms including Noah Holdings Limited (NYSE: NOAH), Quark Finance, Phoenix Finance, Pang Mao Bao, and Allenbridge.
To date, MiCai has raised over USD 5 million from leading venture capital funds and significant angel investors including the CEO of Morgan Stanley Bank AG and Hillhouse Capital. We are also one of 16 firms from 1,500 candidates that participated in China's number one accelerator program, the Microsoft Accelerator in Beijing.
We are registered with FINRA and the SEC as a Registered Investment Advisor[5] and have become a gold seller within the global Microsoft partner network.
OUR TEAM

Gregory Van den Bergh
The inventor of China's first robo-advisor system, Gregory worked at Morgan Stanley Private Wealth Management and for MAN-GLG, one of the largest hedge funds in the world. Greg graduated from Oxford University, studied at Harvard and has an MBA from the Cheung Kong Graduate School of Business.

Eagle An
Formerly the acting Head Wealth Management at CreditEase, Eagle built out the team at CreditEase to become China's number two private wealth management company in three years, managing 1600 wealth managers. He spent nine years at Standard Chartered China, building out Standard Chartered into a top-three foreign private wealth management firm in China. Eagle previously worked four years at the headquarters of Agricultural Bank of China, one of China's largest state owned banks. Eagle graduated from Peking University. He is a CFA and FRM.

Prof Geert Bekaert
A professor of Finance and Economics at Columbia University's Graduate School of Business, Geert was an investment Director of Betterment, the largest private Robo Advisory company in the world. Geert was an early team member of Financial Engines, a technology-enabled B2B portfolio manager and investment advisory company (NASDAQ: FNGN - 2Bn USD). Geert published over 60 articles in the Journal of Finance and other academic journals and research associated to the USA National Bureau of Economic Research and consultant to the European Central Bank.

Prof Ouyang Hui
The former head of Big Data and Quant at UBS Asia, Prof Hui built the Big Data models that support UBS Private Bank. He was also the former head of Lehman Point, a leading portfolio and risk management company (currently Bloomberg Risk), and the Dean's Distinguished Chair Professor of Finance at CKGSB; Director of the CKGSB Internet Finance Research Center and the Financial Innovation and Wealth Management Center. He has a PhD from the University of California, Berkeley and a PhD from Tulane University.

Stephen Kade
Stephen Kade is a blockchain technologist and market designer. He is a co-founder at TrustToken, a platform for decentralized asset management and tokenization of real-world assets. He studied computational neuroscience and economics at UC Berkeley.
OUR ADVISORS

Lon Wong, President NEM Foundation
Lon Wong is President of NEM.io Foundation, CEO of Dragonfly Fintech and an equity investor in MiCai. A serial entrepreneur with more than 30 years of experience, Lon is a blockchain thought-leader and heads the NEM blockchain project. He is particularly interested in designing blockchain solutions for the financial industry at large and helped to develop NEM into a leading financial blockchain solution. Lon is an equity investor in MiCai.

Chris Van Aeken
The former CEO of Morgan Stanley Bank AG—one of the largest private wealth management companies in the world, with over 2 Trillion USD under management—Chris was also the vice-chairman for Morgan Stanley Private Wealth Management Asia. Chris has a B.A. and M.A. from the KULeuven and an MBA from Chicago University.

Sebastian Quinn-Watson
A partner of Blockchain Global, a leading blockchain advisory, and an expert on capital and token sales, Sebastian Quinn-Watson has supported and advised on more than USD 310 million in ICO token sales this year for leading companies such as Bankera, Powerledger, Etherparty, PlayKey, Airswap, and more. Sebastian also sits on the advisory boards of a number of successful blockchain companies.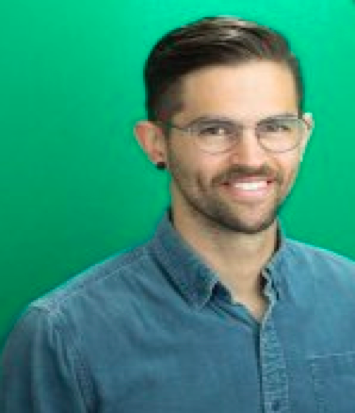 Benjamin Le Roux
Benjamin Le Roux (Bright Block Marketing & Google) is an Executive Marketing Token Sale Advisor with a wealth of experience delivering powerful marketing strategies for blockchain companies. Benjamin was the acting CMO at Status.im and provided marketing leadership for their USD 100+ million raise. He has also provided marketing token sale advisory services for AirSwap, Simple Token, PlayKey, and more. Additionally, Benjamin is the product marketing lead for Google Drive.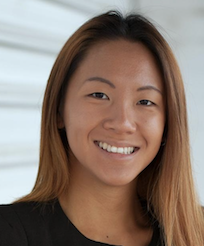 Georgina Tan
Georgina Tan is a marketing and sales consultant with 10 years of international expertise. She has a degree in Marketing from Swinburne University of Technology in Melbourne, Australia where she was awarded the Vice Chancellor's scholarship and graduated with the highest honors in her class. Georgina has worked with reputable companies including Google, The Walt Disney Company, Barclays Bank, Mindshare Worldwide and NMPi (formerly known as Clicks2Customers) to provide strategic advice and management of marketing initiatives.

Roger W. Kirby
Roger Kirby is founding partner at Kirby McInerney. In 2013, Kirby McInerney won a USD 590 million claim against Citibank for investor fraud. Mr. Kirby has enjoyed considerable success as a trial attorney, and cases for which he has had primary responsibility have produced landmark decisions in the fields of securities law, corporate governance, and deceptive advertising. He has been perennially listed as one of New York's Super Lawyers. Mr. Kirby is a Visiting Law Fellow at the University of Oxford and is researching the legal framework for tokenization of assets via smart contracts. Roger has degrees from Stanford (B.A.) and Columbia University (J.D.).
REFERENCES
[1] https://www.reuters.com/article/us-global-wealth/millionaires-wealth-reached-record-63-5-trillion-globally-in-2016-study-idUSKCN1C30L2
[2] https://www.youtube.com/watch?v=BqmKJMkOZsw
[3] http://cn.wsj.com/gb/20160104/mkt122432.asp
[4] http://www.ftchinese.com/story/001064538
[5] https://www.adviserinfo.sec.gov/IAPD/IAPDFirmSummary.aspx?ORG_PK=281836