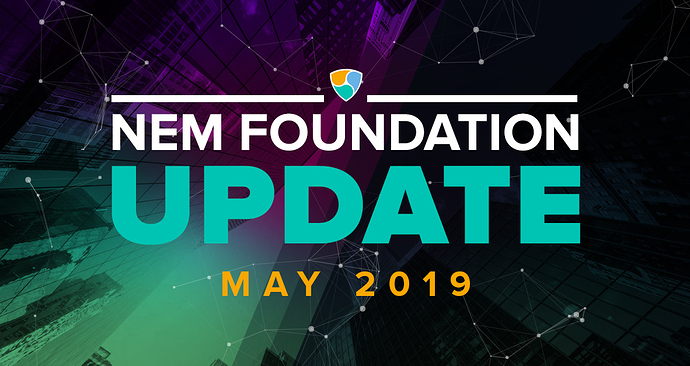 May 7
Dear Community,
This is a May update to share the latest progress made as we move forward in the transition and restructuring process.
Translations of this update are as follows;
Japanese can be found here:
Spanish can be found here:
Chinese can be found here:
Italian can be found here: here:
Russian can be found here:
Interim ExCo Appointees and Council Invitees
The Council has extended its leadership team by onboarding 'council invitees' and advisors who will represent key areas of growth. This is part of the Foundation's efforts to achieve the goals and objectives in the NEM Foundation Catapult Roadmap and Vision and beyond.
The Interim ExCo and Council Invitees include:
Jason Lee (Interim Vice President)
Laura Takenaka (Interim Secretary)
Gregory Saive (Council Invitee - Technical Development)
Jasmine Ng (Council Invitee - Business Development)
Niko Mäenpää (Council Invitee - Legal)
Karen Cohen (Council Invitee - Human Resources and Operations)
Jian Chan (Council Invitee - Project Management)
Advisors - Names will be announced in future updates
These new appointees and advisors will be invited to attend council meetings on a regular and/or as needed basis. There will not be additional remuneration, they don't carry voting rights, and will be contributing on top of their existing positions.
Trust Set Up for NEM Foundation
The Foundation is in the process of finalizing a Trust structure to ensure transparency and protection of the utilisation of Foundation funds with a number of individuals who have been appointed to be Trustees, Settlors, and Trust Protectors.
The Trustees are tasked to ensure that the funding is used properly with the Trust Protectors providing an additional layer of oversight. From a funding perspective, the Trust will be a layer on top of the Company Limited by Guarantee structure which is the current set up of NEM.io Foundation Limited which is a legal entity in Singapore.
NEM Service Provider Update
The NEM Service Providers Program was launched on the NEM Bonfire Portal on 10 April and we've received 69+ registrations globally.
The inaugural project open for bidding was the contract to develop the Catapult Mobile Wallet. We have 12 Request For Proposal (RFP) submissions and the proposals are being evaluated with a final outcome by May 10th, 2019.
Progress Update: NEM Foundation New Hires and Team Expansion
Confirmation of Steven Liu as NEM Foundation Developer
Steven has been a developer for more than 13 years. He was born and raised in Beijing, China and is currently living in the UK. He has worked for several UK technology companies as a backend developer, a frontend developer, a cloud engineer, and even a database developer.
Confirmation of David Garcia as NEM Foundation Technical Writer
David (@dgarcia360) helps tech companies to make their products usable for developers. He has been driving Catapult's technical documentation related efforts since the first open-source release. His mission is to build a documentation culture inside the NEM developer ecosystem.
Confirmation of David Shaw as Executive Consultant for Catapult Go-To-Market Strategy
David is a veteran enterprise consultant and the newest Service Provider to help support the Catapult go-to-market (GTM) strategy for pre-launch, launch, and post-launch activities. David has been involved with NEM for 9 months after being approached by the Ventures team to act as an Advisor to the fund. He continues as senior advisor to NEM Ventures and is now Chair and Trustee of NEM Holdings and Chair of the Investment Committee for NEM Ventures.
This new partnership with David includes the formation of a Steering Group with President Alexandra Tinsman, David Shaw, and Nate D'amico from the Project Management Committee (PMC). The Steering Group will oversee the roll-out of a new market positioning and NEM branding to help create a coherent, common, and compelling message to the market about the real uses of Catapult blockchain technology.
Confirmation of Wachsman Agency To Support Catapult
****Wachsman will be leveraging the existing NEM Ventures engagement, who will be supporting with Catapult PR and marketing activities. Wachsman's portfolio includes notable industry companies such as CoinDesk, Dash, Lisk, Aion, Kraken, Steemit, GBX, and many more.
Confirmation of Kristof Van De Reck as NEM Foundation Representative for Europe
Kristof will continue his role in 2019 as Chairman of Blockchain For Europe with the initial committee of Ripple, NEM, Bloq, and Fetch. AI. The Blockchain For Europe events are combined with meetings with policymakers to discuss an array of topics regarding blockchain, cryptocurrency, and their associated regulations.
Engagement and highlights across April 2019
The month of April came in with engagements from the leadership team including:
Council Member Anton Bosenko, represented NEM Foundation in #OKExTalks at Ukraine.

Council Member Pedro Gutiérrez, held an 'Ask Me Anything' (AMA) session organized by Binance Spanish.

There was an article posted about President, Alexandra Tinsman, and the progress with NEM Foundation.

Business Development Lead, Jasmine Ng, was a speaker at the Security Tokens Workshop in Malaysia.

Jasmine Ng was also a keynote at Insolvency Singapore where she explained how blockchain could revolutionise insolvency practices at the conference "Blockchain Life 2019 Asia".
She and Ong Kar Jin from the NEM Blockchain Centre team also presented on the state of cryptocurrency regulations in Malaysia and Southeast Asia at an event hosted by Asia Blockchain Review.
President Alexandra Tinsman attended the Blockchain Research Institute (BRI) Summit in Canada. BRI is an independent, global think-tank, co-founded by Don and Alex Tapscott. Besides deepening partnerships, another outcome from this event was the NEM Foundation joining the Token Taxonomy Initiative to help contribute to developing a clear definition and scope of the token concept, including use cases, taxonomy and terminology, and a specification.

XEM has also been on-boarded onto the Magnum Wallet.

NEM Foundation has partnered with CryptoChicks and will be participating in running a 3-Day hackathon at the CryptoChicks Blockchain and AI Hackathon and Conference in Toronto, Canada on May 31st - June 2nd. President Alexandra Tinsman will be a speaker as well as Ethereum Inventor Vitalik Buterin and the SingularityNET team showing a demo of the Sophia AI.
Transformation Team Updates
Jian Chan continues to lead the transformation team as the Lead Project Manager with 80% of planned transformation team tasks currently completed. The remaining tasks will be completed post-funding and hiring.
Interim Secretary Laura Takenaka, and Creative Director, Sharie Ingente, have been overseeing the global NEM content calendar, finalising communications policies, media packets, and streamlining communications.

The HR team, led by Karen Cohen, has been finalising employee contracts and HR policies, staff auditing, and the on-boarding of new hires, consultants, and developers.

Council Member Pedro Gutierrez has been developing training programs with partners in Latin America and Spain, as well as setting up pilots for large online education/training platforms.

As the lead driver for sustainable corporate policy, Steve Li has been the primary lead for all new Council policies. These policies and procedures were put into play immediately and will be released at a later date pending legal overview.
Partner Highlight: NEM's Good Carbon Footprint in Japan
The team in Japan visited Everybody's Electricity (Minna Denryoku), an electricity provider who pride themselves in leaving a minimal carbon footprint. They have commenced a live traceability solution on the NEM public chain that uses NEM's public chain to record the amount of electricity consumed and the source of electricity whether it be wind, solar, hydro or biomass. Renewable energy makes up over 75% of the total electricity produced for consumers of Minna Denryoku. This traceability solution provides them with transparency for their end users and plans to be a big contributor towards a greener tomorrow.
NEM Blockchain Centre (NBC) Update
The NEM Blockchain Center in Malaysia (NBC) continues its engagement in positioning the center as a regional blockchain hub:
NBC was invited to be part of the Malaysian Business Angel Network (MBAN), the official governing body of angel investors in Malaysia. MBAN also has affiliations/ links to angel investor networks across Asia.
NEM hopes to leverage this network to expand avenues of funding and support for our ecosystem as well as increase our reach in terms of potential consulting clients.
The engagement has also facilitated NEM's ongoing work with the Malaysian Digital Economy Corporation, a government agency that acts as a steward of Malaysia's digital economy - NEM will be curating a half day of blockchain panels/ keynotes at Malaysian Tech Week 2019.
The NBC also held a pilot System Integrator Certification training with 2 companies (11 developers):
The training session was conducted by technical trainers Anthony Law and Ivy Fung with a walkthrough of developing on NEM's blockchain, use cases, and an overview of Catapult.
The training, a revenue generating event, was a success with 83.4% of respondents rating it as good or excellent.
This is the first stage of the NBC's broader education efforts: the next steps will be to use the feedback garnered, have follow up sessions, improve the syllabus, and digitize it for an online global platform in preparation for Catapult.
NBC welcomes its newest tenant, TheVault Ltd, which is developing a consensus network and an AI fraud detection system that will protect cryptocurrency transactions from error and theft.
AMA to the Community in May
We will be hosting an 'Ask Me Anything' session with the community in late May. We'll focus on questions around the Catapult Roadmap and Vision and NEM Foundation Sustainability effort. All questions on these topics will be compiled and NEM Foundation will highlight a few updates and progress over the last few months.
We encourage everyone to submit questions here.
As always, we thank the community for their patience and support during this ongoing restructure and look forward to sharing more news and consistent updates on progress with you in the future.