It is a very unfortunate excuse…
That Japanese language can only be done with machine translation…
It is not enough to fix the translation.
You need to correct the content of the website.
They agreed with my suggestion, too.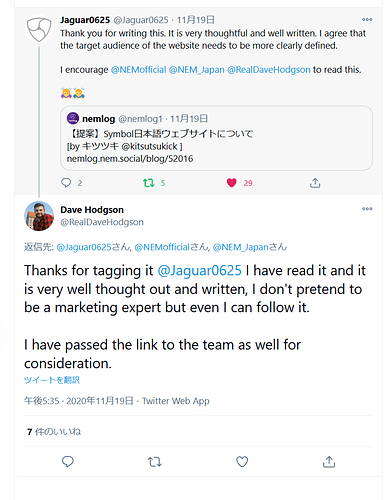 I have managed to fix forum access. we have read the article and so have the marketing team. Its good feedback and the effort is appreciated, so thank you. It can be used in the working group to ensure that as Jaguar says the target audience is understood, You have put a lot of thought into your ideas. We will discuss this in detail with the working group and ongoing to look how to improve where needed - not just translations. it would be great if you could join.
You're a bad liar.
It was a machine translation. You're not Japanese, you'll never understand.
And you've lost your credibility.
No one likes a liar.
It's great marketing.
You are too much offensive from my point of view… If you want, you can help with Japanese translation. So, please do it.
Because you are still and you will be still unsatisfied. It seems that it does not matter what NGL do. As I wrote if you are not satisfied instead of negative and offensive replies just help. It will be much better for NEM/Symbol.
You are missing the point. Stop fudging the story.
This is a web site thread.
The website is run by NGL.
The website is not open source.
Did you read the last sentence? He clearly states that you can help, if you can…
Dahahaha

All my English is machine translated.
Are you asking people who use machine translation to help you translate?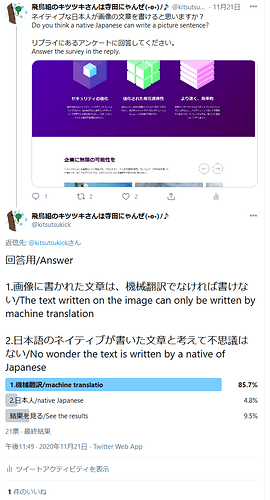 Most Japanese seem to feel that the sentence can be written only by machine translation.
What matters in marketing is how the recipient feels.
If most Japanese feel that it is machine translation, then the person who created the site is an amateur, no matter how professional he or she may claim to be.
Cheap excuses will add fuel to the fire.
If you are a marketing professional, don't tell a lie, but don't tell a lie that can be easily exposed.
Hi all -
Not being involved in the marketing team directly or the website work, Dan B asked me to look into this process so we have a review done that wasn't by him or the marketing team.
The work is still ongoing but following my post above we have had some feedback that it has caused some further confusion within the community, as it refers to a few different points that are related but separate. I wanted to follow up and offer some clarity around what was meant and how that appears to have been misinterpreted or misunderstood.
First and foremost we as NEM Group would like to apologize for the mistake that has been made as it is clear that some of the execution of translated text contained errors. There was no disrespect intended it was a genuine mistake.
The intention of translating the website was to illustrate that having it in Japanese was important to us, as is the Japanese community. As far as we are aware the main sites have never been translated and this is still something we would like to do. The key thing now for us is to resolve this situation, to move forward and to explain more clearly the target audience for the website and give consideration to the feedback on content that we have received.
In the post on behalf of Dan B above were two related but separate elements we wanted to draw attention to which I will now clarify. They appear in the first message to have been combined when interpreting the message.
Point 1: The sign off process for the website was done by the senior marketing team. We take collective responsibility for sign off. We now know it was not good enough and are reviewing the process. We want to make it clear that the NEM Japan team (Etsuko, Mikun) reviewed some of the content but were not involved in the final sign off of the website and this forms part of the review. Etsuko herself will take responsibility and lead all translations in the future, with some assistance on technical translation and supported by Dan.
As part of looking into how this happened I have spent extended time with Etsuko, Mikun, and am working with the rest of the marketing team this week, as well as the third party who has assisted us with translations since June.
Point 2: Related but separate - there was already the intention to set up a working group for marketing in Japan. As Japanese marketing representative, Etsuko will attend these meetings also. Within it topics will include the translations process, website content and structure of nem.io, symbolplatform.com, nemplatform.com, route to market, and how to ensure Symbol has the best chance to succeed. If anyone wishes to participate in that conversation let us know and I will arrange to talk with you.
We hope this post helps clarify some points, we again apologize for the translations and I am looking at the processes involved to avoid this in the future as well as working with Dan and team on the website(s) content and wider Japan marketing strategy.
I suggest that it would work better if the Japanese team is independent of the headquarters. I've suggested it several times.
There are many more serious NEMbers in Japan who know more about NEM and marketing than Dan. You have to understand that Japan has its own way.
Hi Tresto
Will look at that as part of the process and wider strategy conversation. Are you able to let me know who the NEMbers are in Japan with this knowledge and skillset and I will be happy to speak to them. If you do not wish to share on the forum then I am happy for you to PM me.
Thanks
That question showed why NGL cannot receive trust from Japan.
What do you mean? I do not understand?
There should be people who have already offered to support. I saw it on Twitter. Isn't the information shared?
Yes I saw that, and the team in Japan mentioned it this morning. I have asked them to collate these as part of the data gathering exercise so we can speak to them when the time comes. If there are any specific NEMbers in Japan you were referring to let me know and I will ensure the are flagged.
That's good. Thank you.
Its both.
Anyway, there is no doubt that NGL has somewhat damaged the trust of the Japanese NEMber with this Japanese site. And it might be more serious than you think. The physical fix is easy. But fixing trust is not so easy. First of all, I want you to seriously listen to the two members of the Japanese team. "We don't get taught what's important," they seem to be saying.
Hi all
Over the past two weeks I have looked at the website launch. To prevent a similar thing happening again there is now a strict process in place where all translations will be signed off by the NGL team in Japan, having been through professional translation first. We will also have assistance in technical translation by a Japanese national Shohei Kamon where needed. This will help future translations as they will be transcribed rather than translated.
Working Group
During the two weeks we have initiated a working group which has NGL representatives Dan Bobby, Dan Rowe, the in country Japan team, and community member and Atomos-Seed representative Hiroyuki Gotoh. We have discussed translations but also content, structure of the wireframe, and the contrasting styles of Japanese websites with more Western type ones. I have done a lot of listening and learning. I would like to again extend the invitation to Japanese community members who may wish to contribute to the working group.
Website for re-launch
What we now have is translated website copy in Japanese that is correct thanks in part to Japanese community members - this has not been released yet as the working groups recommendation is to also review the structure of the website and content to be more in a Japanese style. There is a further post going out today about how we would like community input on the options that are available for launch of the Symbol.
Wider website work
Part of the internal conversation that this has sparked is around the form, function and target of the website estate globally as well as Japan. It is clear from the feedback that the websites need to reflect the needs of all our audiences in the ecosystem as well as to provide useful information about all the elements that make up NEM. I am initiating a piece of work to deeper review this and to make a recommendation on whether our global business strategy would be better served by an audience focus to the global web estate rather than a product focus. Etsuko tells me the Japanese word for this continuous improvement is kaizen 改善 and it seems like a sensible approach to take. This is not a small piece of work and means all the websites would change, it would not be rushed and is not going to be in place by launch.
Wider Japan thinking
We have seen in the community various calls for more on shore representation and how it would increase Symbol and NEM's chance of success. I have in these two weeks taken time to look at Western brands that have worked in Japan, and Japanese brands that have been successful in other continents to try and understand better how success looks. I also meet weekly with Mikun and Etsuko on wider Japanese topics and to provide support and listen to them. There are many good inputs and insights from the community and the team that would help us and we would love to hear more of your ideas so that we will grow faster next year. Please keep sending them to the team in Japan so that your ideas would be discussed during the meeting.
The working group, community feedback, and meeting with NGL Japan team has led me to look at Japan and how it is approached specifically in a much wider sense. We are already investigating how we can more on shore in Japan and actively talking to companies and individuals who can help in the business, marketing, and community aspects. I am hopeful that we would have news to share on that at the beginning of next year if commercial discussions go well. This again is not a quick piece of work to put all that together.
Whenever I can I will update the community with what we have provided so it does not hinder the conversation the working group is having with prospective partners.
We are committed to the success of NEM and Symbol in Japan, I hope this post explains the direction we are looking to go.