If we had to guess, how much longer do we think? Hour? 2 hours? 4 hours?
This is bullish for XYM and crypto in general:
The Fin / Sum 2021 meeting has started in Tokyo
NEM CEO speaks from 11:00 a.m. to 11:20 a.m.Japan time (March 15, 11:00 p.m. to 11:20 p.m. U.S. Time)
Symbol at the same time?
So where to buy XYM then?
US time? which is part of the US? lol
No. The NEM CEO speaks in an hour and Symbol launch has been delayed. The NEM team messed up big time by procrastinating on the Symbol launch.
I'm talking about delaying the Symbol launch. The event is running and I'm gonna watch it
XYM's price is $0.56 on bitrue.com.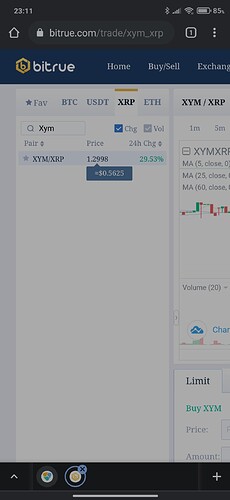 Waiting for the phone from whale hahahahah
My yesterdays joke may be a good conspiracy theory…
If this is artwork maybe you could sell it like NFT
and earn much more money than from trading!

Got a word from a MEGA WHALE, they will be rebuying and pumping XEM until XYM gets listed on Binance, target $1.2 in the next 45 days then a short at around $1.18 with a sharp decline back to $0.48.
Whale has not so longterm plan, only one week, after that all will be dumped alongside with broad market and stocks.
I also don't believe it and I still think they will just dump everything, but he told me that they have tons of coins as well as strong support from hodlers, and they're sure that increasing the price up to $0.75 won't be any problem in a very short pump.
$0.375 → $0.46 > $0.41 > $0.49 > $0.44 > $0.49 > $0.46 > $0.51…
That's the play.
Edit (40 mins after post above): Mega whale started the play, they are eating all the XEMs.
New support line $0.387
Fake resistance walls at $0.395, $0.398, $0.399
I didn't know that whales consulted with plankton…

Who said "consulting", just got a general plan, may diverge a but as it's always relative, but that's the general direction I've been told.