She departed from NEM fundation and now works for NEAR protocol
IMHO I wouldn't buy XEM because my focus is now on XYM, but XEM at $0.37 seems to have strong buyer support at $0.33, $0.35.
5 Minutes later: Xem price at 0,3750
seems like support at 32/33c, and resistance around 37.5c. Today seems support is at 34.8c
Current UTC TIME IS 21:22 - March 15th!
What's up with this launch! Delayed again?
New Push incoming… here we go

Announcement here regarding current status:
new feed:
Ready to break and cross the 0.3767 Resistance Range
Expect to see 60% pullback to previous price level before "the dump".
It will rise as quickly as it dropped
Overnout
Beware it could be a trap
Unbelievable. The NEM team just missed the launch date and also missed having symbol launched for presentation at the FINSUM event in Japan!
Chill man

Tell me what time is it UTC? We've got one hour to end March 15 UTC time.
The FINSUM presentation scheduled at 2 pm in Japan has already passed!
Hello from Japan
Today is 8 a.m. forecast temperature 21 degree and sunny day
small earthquake at 5:00 am magnitude 4.5 to wake up well haha
In the USA it is still March 15 and it is 7:00 p.m. (symbol advances without problem, we have to wait a little longer)
A beautiful day begins
see you soon
15m Chart Price Roadmap
(free of charge, not financial advice, just artwork)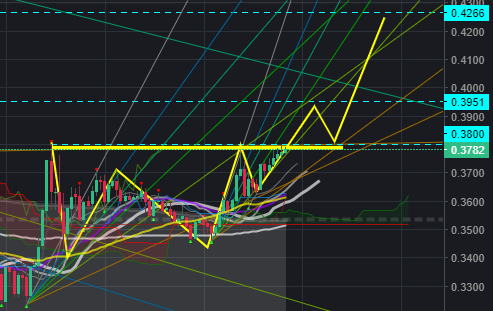 think like a market maker and be a market maker copy-cat
edit: this resistance will be eaten soon… just watch it…


For sure the launch on March 15th won't happen. I HOPE they don't miss having Symbol launched and ready for the FINSUM event!
Chill out man, everybody waits for the launch, but angry posts wont make it happen faster… it will be there, be passionate😁
no problem, relax
just wait
maybe 11:00 japan 23:00 USA