For People who want to speculate on Symbol (XYM).
Similar to:
XYM to the

!
Good Idea!
I had presented shape of price chart for XYM after debut 15.03 to 31.03.2021
This is rune is Iwaz (Eihwaz)

Price after debut will drop (which is logical), some days after that will grow and before the end of March must fall one more time (but not yet below starting price of the debut day). That was my first impression when i drewed this rune for XYM in March - this shape and possible price chart shape

I may be of course wrong, many will say as always - runes are bullshit. Time will judge. Not long to wait for that.
Other thing behind this rune is numerical value of 13. I'am curious if this rune shows price of 13$ as highest price for XYM in March (or 4$ or 1-3$ range - numerological possibilities). Time will tell.
Not a trading advice! Divination techniques can be tricky! DYOR!
Agree! When binance lists XYM/USDT and XYM/BTC pairs, XYM will pump to Mars

As soons as XYM gets listed on exchanges it will pump to MARS!!!
What will be base price of XYM anyone know ?
Hopefully it will be the same as XEM, not sure. But no matter what XYM's price starts at, it will pump when it's listed on binance

@ormurinlangi tell us
You mean starting price of debut day, or high low of candle from that day? Or maybe averaged price of that day?
Only market can predict that. Just in time. Or seer. I know person, who is seer, but he not knows XEM unfortunately. He must know something about project to be a prophet, other than that, he can fail.
I can only write here my expectations. 3$ (average) is minimum de minimis (for me) to say that debut was successful. It will be below 30bln of capitalisation. XYM deserves for 100-200blns of capitalisation in this bubble.
https://www.tradingview.com/x/dEoBp7XF/
https://www.tradingview.com/x/BT0SGQ2H/
magical line

https://www.tradingview.com/x/MhBdGdSx/
https://www.tradingview.com/x/tlxckeL3/
XEM has now his one, normal chart and logarithmic.
Right XEM is back! XEM pumping cycle is back! XEM is still cheap, on sale, don't miss it NEMbers

I m saying about listing price.
That will be decided by first transaction of market players. Each exchange can have his own starting price, decided by those who buy/sell.
Bitcoin dominance is starting to drop. And it might go as low as 30% from March until June

. Now it's time for XEM, XYM and the entire crypto market to pump!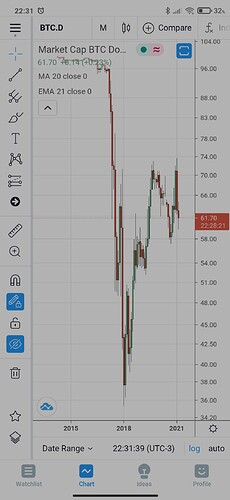 I think it will be higher than XEM price as XYM has lower supply. But it also depends on number of liquid exchanges that support it.
62c now. I wonder how much higher it can go up until the snapshot date.
Double from now or so, I would say, if BTC stays in 40ks till 12.03. If BTC drops bellow 40k it will be harder, but still XEM/BTC might experience some remarkable gains.
Agree with @Ljubisa1 at least double $0.62 and hopefully reach all-time high at $2.09.
I you agree that XEM is pumping now, smash the

button!
I think it's going to be hard for people to sell and majority will hodl, as speculation of price pump as we get closer to snapshot date.
for me will be very difficult, but probably half will be sold…