Hello NEMsters
We have time of emerging Bitcoinmania and probably cryptomania, so some charts can be analyzed for XEM and XYM after debut.
https://www.tradingview.com/x/ynVMvTXN/
We have minimum @ 392satoshi (Poloniex) and if WXY wave counting is proper, XEM should reach 3000 satoshi. That is minimum for corrective upmove.
https://www.tradingview.com/x/AIAAW2J2/
In terms of XEMUSD minimum umpove should reach 44cents, but it can of course be much higher than that level.
https://www.tradingview.com/x/9aMo9U8i/
It looks like impulse in the making (can be A in corrective zigzag also in the making)
Next charts i will publish in case of intresting market moves.
some pessimistic scenario for the comming days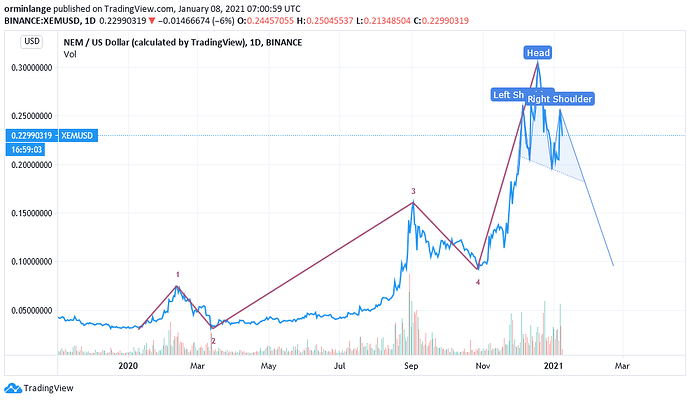 unless some demand will be showed, without that XEMUSD can sink to lower levels, and test area of wave 4th so counted as impulsive structure with the begenning in January 2020 and top in December 2020.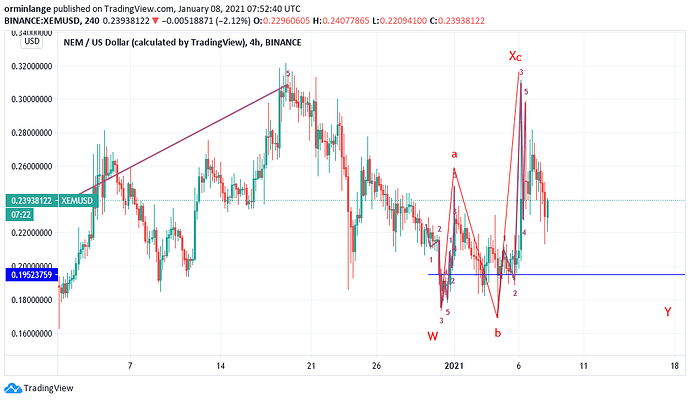 Beside that XEM after correction, should produce new leg up to minimum 44cents (can be zigzag ABC with two impulses within) or higher levels, depends on demand and market bias.
Alts (out of first 10 in coinmarketcap) are pressured by Bitcoin and biggest alts which is showed here: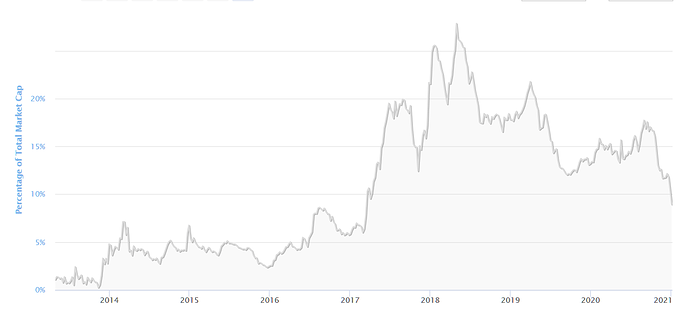 Very risky situation, but i have some new XEMs @22cents with hope for growth, if not pending orders to buy more are @400-460 satoshi.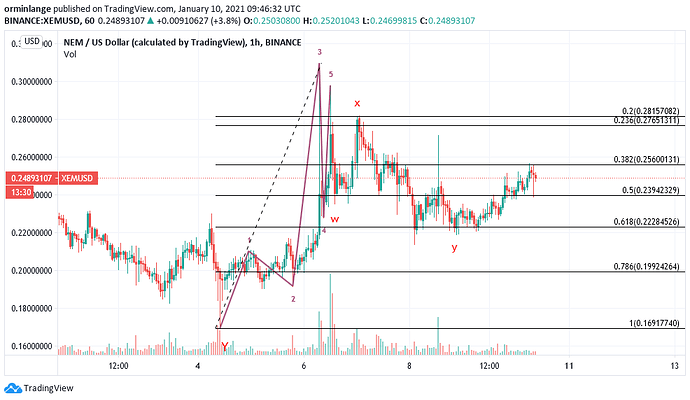 current situation, until 22 cents is support area, 32-33 cents is first significant resictance level on which can be some dump made, if not significant drop (above 30% from highest price point) have chance to occur only in area above 1$ (precisely around 1.3$) Why that? Tarot card Ace of Swords signalled me that bump from 22cents should reach value of 11cents or 1.1$.
Fundamentally Nem is set to rise in price given the imminent launch of Symbol.
Sadly card of Fool failed to predict 22 cents as unpassable level (second meaning is zero or better to say "cant predict"), but ok Tarot is not the only tool to predict, intuition is the key in cryptomarket.
I personally doubt in price of 10x higer than wave of highest tier with length of 2$, but waves theory says that minimum for this upmove is 44cents, maximum 3$ (if we say about corrective nature of that wave), market will choose level before snapshot (i think week or two before)
i dont sell XEMs collected @22cents, if some impatient investor will be so kind and dump i will wait for that @ around 10-12 cents and 400-460 satoshis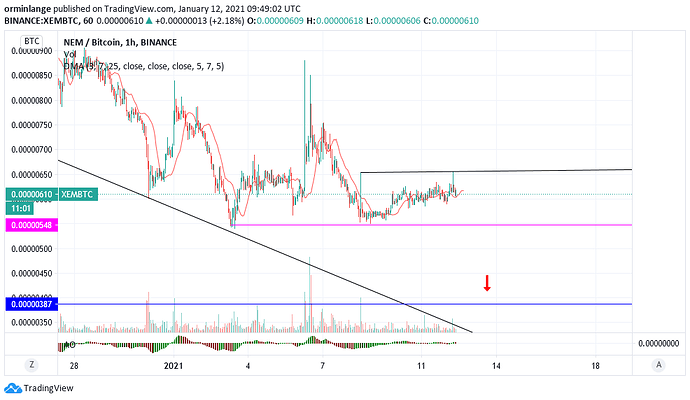 Strong move up or down in BTCUSD and XEMBTC will drop nearer 400satoshi, hopefully only in flash moment, after that bounce and building wave to minimum 3000sat will be much appreciated by patient hodlers.
No moves yet. Alts surging and NEM soon back to #27-#30CMC.
Terrible timing for delay I would say.
Yes, XEM was on big rise and since NEM announced the delay, XEM dropped despite all the ALT were going up.
It was the perfect time for a launch, the delay destroyed everything.
if it wasnt delayed, XEM would keep going up, it was the perfect timing.
If we are unlucky, XYM will be launched when people focus on BTC and we wont even profits of this lol (And many people who bought for the january launch are angry and wont buy again, just check at twitter's comment)
Many people are tired of the "NEM Catapult soon" since 2017. this new delay was too much
Crypto is for patient people, NEM does not guarantee in 100% exeptional ROI but it's related to probability. I am patient because there is high probability that delayed snapshot give us more catapult in price (more than minimum to make described in XEMUSD and in XEMBTC charts).
If someone look at other altcoins it is frustrating, but only for that people, who dont have other, better for now altcoins.
XEM is stable after some growth from few cents to around 30cents it's natural, that without fuel from speculating investors XEM stays in range of corrective moves. Before big move up there is tradition in case of XEM to make final dump, how deep? Who knows that, only market will show us that.
You could just say i need a dump and i hope there will come one.
Xem is worst performance now
of course i need a dump, and i have waiting orders here and there, but without that i have bag of XEMs to have bag of XYMs, it's mandatory for cruptoplayer

32cents was around 10x higher than significant dip (around 3 cents, intraday even 2.5cents), there is many alts that are in much worst situation, see LISK for example.
Lesson from the past looks like this. There should be dump, before big pump.
https://www.tradingview.com/x/Vujnr60I/
Tarot card shows there will be some conflict so some dump is expected.
it will up now symbol launch on feb 30 2021
there is no such day in calendar hahah but maybe You made that intentionally, yep launch is still unpredictable

I predict it will be on 21st or 28th Feb.
I predict nem go to $5 tomorrow
Nice moves XEM, pump without previous dump? i am "concerned" :

Tu da mun!
https://www.tradingview.com/x/tllza8dg/
breaking pink line will be opportunity to seek cheaper XEMs, if not XEM will rise.