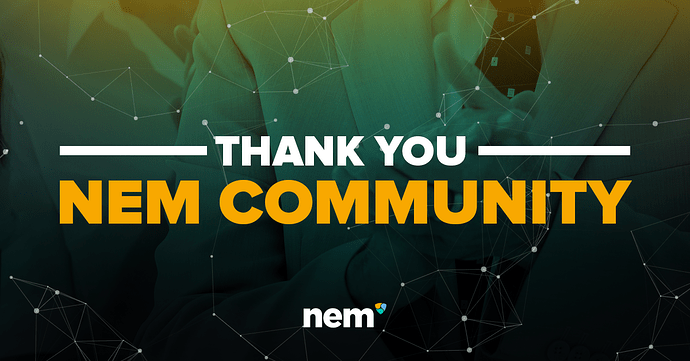 Dear community,
The Executive Committee and Council Members for NEM Foundation would like to thank you for voting for the Funding Proposal 2019 - as per the minimum requirements of 3% 'YES' votes and 65% majority of 'YES' votes, the proposal has been approved by the community.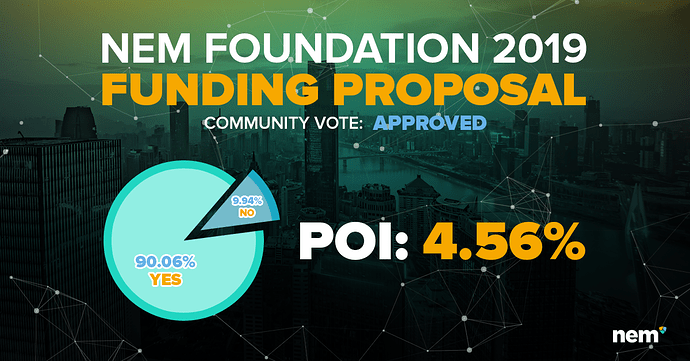 Here are 7 updates:
1.Thank you.
The community is the reason we do what we do. You have made your choice to first elect this council and now fund its initiatives, and we as the new leadership for 2019 look forward to working closely with the community. We would also like to thank the NEM Labs team and congratulate them for their successful approval from the community as well.
2. Activation of the new structure
We will be working with the relevant community members to go through the process of disbursements of funds and have been in touch with our lawyers in Singapore where NEM Foundation is incorporated. As promised, we will transition into a product-focused and revenue-driven Foundation and will be providing updates regularly.
3. Set up of a transformation team
The transition to the new structure will take time, and a whole change management process will be initiated. We are taking an agile approach to how we manage the funding and will not hire for all positions immediately. We will be prudent and careful in our spending - only hiring what is urgent and essential. Our first step is to hire a 'transformation team' which will work on ensuring that standards, processes and policies are in place to initiate the new structure
4. Support towards the launch of NEM's technology update: Catapult
Our very first act in initiating the new structure is to channel resources towards supporting the launch of Catapult. We will be dedicating our full attention to working with the Core Devs, Project Management Committee (PMC) and all contributors to the NEM ecosystem. Our first official role from the product-focused structure will be the appointment of Jeff McDonald as the interim Chief Technology Officer (CTO).

Jeff is acknowledged as a co-founder of the NEM Foundation and was involved in the funding NIS1 projects including iOS, Android, NanoWallet, NEMpay, MicroWallet, HotCold Wallet and more. He was also the lead behind the Catapult Mobile Wallet Walkthrough. Our interim CTO will be setting up a team to contribute tools, SDKs and apps for the community to use. He will work closely with the PMC.
5. Ensure Financial integrity and standards
There has been a lot of questions regarding how our funding will be activated. We would like to inform the community that we have transitioned a team of finance professionals led by our Chief Financial Office, Cillia Lim. She has support staff and has been instrumental in our audits and payment of outstanding expenses. She has more than 20 years in the finance industry and will be working with the Executive Committee and Council in the financial transition into the new structure.
6. Media engagement
The community has given us the mandate to lead for this coming year, and we will do so proactively. There have been numerous media requests which have been holding back. Do look forward to positive news for the community as we ensure that the public knows that NEM Foundation is committed towards the engagement and adoption of the NEM blockchain technology across the world.
7. Twice a month updates from the council
A commitment we will make is that there will be an update from the council twice a month until the new structure has been established. In the update, we will be announcing new hires, our roadmaps, KPIs and strategic direction. One of our core values is in being responsive, and we will uphold this through regular updates, even though it may be a concise update or a full report on our progress.
Once again, we would like to thank the community for supporting our proposal.