All,
While working through the Extraction, Validation and Creation of Genesis/Nemesis block work (Symbol Launch - Genesis Block Creation and Opt-In Validation) it has become apparent that there is a minor logic error in how some Multi Sig Opt-ins have worked that will leave the Symbol account with a stricter co-signing threshold than they have NIS1, for cosigner removals.
The issue only affects m-of-n multisig accounts (2-of-4, 3-of-5 etc) and there are only 11 affected opt-ins so most people can ignore this, if you haven't opted a multi-sig account in, you can ignore completely.
This one gets a little involved but I will try and explain as clearly as I can. The purpose of this post is essentially to provide information, explain the issue, quantify it and give an approach to resolve if people want to.
The new Nano Wallet v2.5.0 release resolves the issue for any future opt-ins so it only affects those 11 accounts noted below.
First, an overview of some Multi Sig basics
NIS1 Multi-Sig
In NIS1 a Multi-signature account can be one of the below for initiation/signing:
Only some cosigners must approve a transaction or remove a signer: m-of-n
All Cosigners must approve a transaction: n-of-n, in which case removal is n-1
Docs here: Multisignature and Multi-User | NEM Documentation
Symbol Multi-Sig
Symbol supports all of the above but also allows the account owner(s) to explicitly set the removal signature threshold for taking a signer off an account. It brings into it a concept of two settings:
minApproval: The n-of-n or m-of-n
minRemoval: Explicitly set signing requirement to remove
Docs here: Multisig Account — Symbol Documentation
Issue with the Opt Ins
The logic in Nano Wallet's opt-in module and the design is correct for most scenarios but we have found some specific ones with certain Multisig setups in which it sets the Removal threshold higher than it is currently on NIS1.
Essentially the logic that was mapped will set Symbol accounts minRemoval to a higher number than was set on NIS1.
We cannot resolve this in the extraction routine because it involves signed transactions that have been submitted on NIS1 as part of the opt in process. There is a way to resolve this manually.
The table below tries to explain this logic more easily with examples, note the two columns:
Expected is how it should behave
Actual is how it does behave.
2 of 4 example is the problematic one.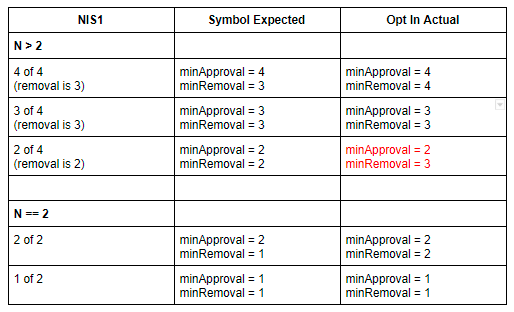 Affected Accounts
The issue affects 14 accounts in total, of which 3 have below 100 XEM balances so will be excluded anyway. You can monitor the list by going to this link:
Opt-in Statistics and searching for unexpected multisig mapping
The accounts affected at the time of writing were (NIS1 account address):
NAM7QA5STDWNHVRBOSJOI424CM7CXLTPBFFFMGU2
NAN33UIXJTCJTRTQDYIFF3OKRIGZFPYTXTYT4NOO
NCUQKIDKVAJJIAH4SWCDVWSV5YAIGVTDEWB3P72C
NCXRFGLJJS5PPIHSFTHHJQFHSUY4BW5E3EEVDAKN
NATYBMJDT6APSJXUVVENMVY5ZZRGZQHBVXZQYYLL
NCNTXSDOFEAL56WQTPUEFPCCRY2KVG7UQQIQ2QRD
NATUIGP6Q6CAKS75R2KOAP7BCZBMD2JGK5M6HTMQ
NDTMDUXL3BRGEL5CWLWGEXDM4MNFLVBZ7XWDHOYN
NB6AXMVR3MBS4GVEVC6DBIZBUCQDUT6RDOLVF5XD
NA7S7RAS7LL77B556JEW247QXBAEYFEZYK7T6QR3
NC7MBV2WLRXBPRP6TSIQG7TWZCGM66NRPQY22XKT
–
NASXINPHA2BXKFDM6KGMJYJHJS5TZUNZMIJBOO3S
NAZKYWOF62YYK2ZAUMO6DQ3FQM6KLFAFH5ESXWKA
NAIVJYI7XEGZW2S7MMUZS3BGS77KWU4W6MDGBPFR
NB4IUKW2PAEYO2HHKFLLH3RYW7LQMRY6XFYJXMAS
Under 100 XEM and can be ignored if not being used
NBEFFHF3XPXDIYK6MUWFOCLZOK5FOFUO3PA45N4S (under 100 xem)
NBHSUSFF2L4KB3ILXZOOEKP7AEFKNTPANUGZ6IMJ (under 100 xem)
NBSKK2DFFY47IMWWQEWPFGOJ64X5NM2TOLGA2YK3 (under 100 xem)
NCXRFGLJJS5PPIHSFTHHJQFHSUY4BW5E3EEVDAKN (under 100 xem)
Resolution Options For Affected Multi-Signature Account Holders
Unfortunately it is not possible to opt in a second time from the same account via the wallet, this means there are these primary options available if your account is affected:
Accept opt-in explicitly: if you wish the account to be migrated as it has been opted in, even with the mis configuration, you will need to explicitly confirm this by sending a 0 value transaction from the MultiSig account, with a message of m-of-n accepted in the message field. This must occur on NIS1 from the account in question to the Opt In account and is accepted at the account owners' risk. You can then. The NIS1 opt in account is: NAQ7RCYM4PRUAKA7AMBLN4NPBJEJMRCHHJYAVA72

Re-opt In: Register a new Multi-Sig account, download the updated Nano Wallet with the fixed opt-in module in it, opt-in again and then transfer balance to the new account

Do nothing: the opt-in will be rejected and you can opt in post launch
Assistance
If you need any help with this issue, please contact the helpdesk is available on: Telegram Telegram: @nemhelpdesk or NEM Helpdesk or reply on this thread
We are also in the process of sending a transaction with a message to the affected accounts