I am placing all "lost XEM at exchange" posts here.
Hello, sorry that I'm writing here this a question, I wanted to create a topic on the forum nem but my account does not allow this because of the fact that I recently registered. The fact is that I sent xem to my deposit on the poloniex exchange but it did not arrive after 48 hours. The support service does not respond. I carefully checked the purse address on the exchange and also several times I rechecked the message that I need to enter when sending xem to the exchange, my transaction can also be tracked at this address http://chain.nem.ninja/#/transfer/e2c1fe42c080743277e949dc9e32d8da7d18cc9f0ae9a6e61d9dad55c77a4159 I'm just starting My acquaintance with this wonderful platform nem and very much afraid that my acquaintance will be overshadowed by the loss of coins this amount is important to me and I'm terribly upset if I lose this money, please if you are able to help me I will be very grateful to you. Thank you and I'm sorry, I just do not know where I can write to solve my problem
Hi @Saul
I've just transferred some XEM from Poloniex to my Nano Wallet almost 30 minutes ago but the transaction in Poloniex is still pending.
I used my deposit address without a message but I think its taking too long.
This is not the first time it happened to me.
I withdraw my XEM from polo the first is successful and the second one is Complete: Error. And then the XEM is gone in my poloniex account.
Can NEM team can do something about this issue? I mean can NEM team can contact directly to Polo? As I am not sure if this has something to do with Polo or the NEM blockchain itself. Because it might be a bad reputation for NEM.
I'm about to activate a harvesting btw. This is worth 1.1 BTC.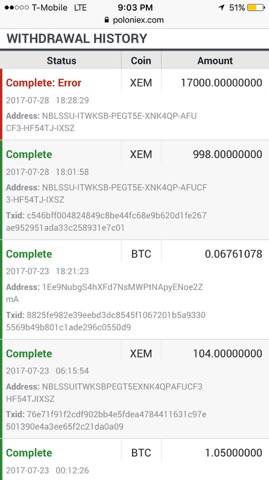 I had this error before and it was on the Polo end. It eventually completes itself though
Hopefully it will complete itself too soon.
Thanks for your reply. Appreciate it.

I wouldn't rely on it being corrected automatically.
This is certainly an issue on Poliniex's side.
Make sure you open a support ticket with Poloniex.
I am getting this error again myself. I created a support ticket. I will update here when it is resolved.
I submit a support ticket on poloniex, and the problem has been resolved. Poloniex issue. Thanks!

Hi there,
I sent 2 payments to bittrex without message ID and bittrex can't credit my account. I have sent them since yesterday. Could you please help return the money back to my wallet
Thanks
The message you included seems way to long. You also encrypted it which they probably don't support.
One tx doesn't seem to have any message at all. Can you deposit to bittrex without a message ?
You're gonna have to contact bittrex support.
I withdrawal XEM from btc38 to poloniex
poloniex MEMO is 79af9d967043a458
but i did 79af967043a458
please help
trans id is f641232fe2595985a8884251e687096caf38f5ed776cfbd0eedb83c3e2dafcdd
you gotta contact poloniex. How is anyone here supposed to help ?
I submit a ticket 5 days,no Reply
That's Poloniex for you. People have waited months. They do eventually solve things though. Gotta be patient I'm afraid.
Hello there,
I send about 5,000 XEM from Poloniex to my NanoWallet. It was first transaction for this wallet.
Now this transaction status is complete, its ID f8e541225ea49b49e74be20b764c4b624463009e099521896d7de7d5b43e39da
but there is no money in my wallet.
Help me please to find my money.
What's your wallet's adress?
Its adress is NC2ULV-WALD3C-U2TMNO-UCQC6M-TB3N3Z-EBWKGE-UIV6
According to the explorer(here) the xem is indeed not in your wallet yet. You should contact poloniex with the transaction id and double check if the adress you gave poloniex is the correct one.